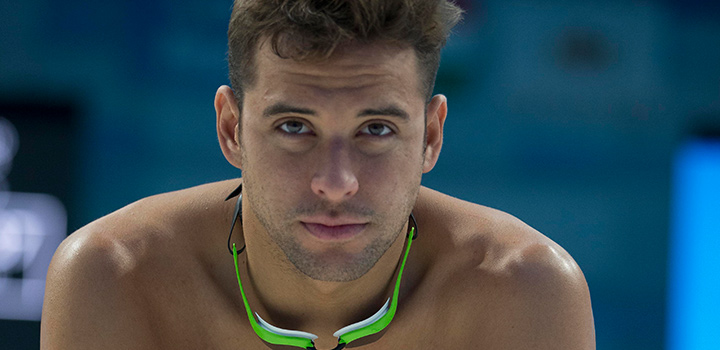 Discovery Vitality Ambassador Chad le Clos has been hitting his personal fitness goals throughout the season, and is now on the cusp of winning an unprecedented fourth FINA Swimming World Cup series title. Find some inspiration from him to hit the pool this summer!
SA swimming sensation Chad le Clos recently topped the second World Cup cluster - which is raced in 25m pools around the world - winning a dozen medals over two galas. The Olympic champ and Discovery Vitality Ambassador is now sitting pretty at the top of the overall 2017 rankings, and is one cluster away from winning his fourth series title.
Chad is tied with fellow South African Cameron van der Burgh with three series titles apiece, with victories in 2011, 2013, and 2014. "Ryk Neethling did really well in the World Cups - winning it two times, Cameron's got three, and hopefully this year I can maybe get a fourth," says Chad.
"I'm in good shape and I am training really hard," he adds. "Last year I became the first person to win 100 medals at the World Cups, so it's all about creating a legacy." Keen to stay in tip-top shape, Chad is currently in Turkey for a training camp before the final three-leg cluster, which starts in Beijing on 10 November 2017.
Top your own personal best in the pool this summer
Want to pump out a workout, but the thought of a run in the sun putting you off? Hit the pool instead for a full body workout that will leave you feeling refreshed and energised.
When it comes to workouts that are fast, that don't require a lot of extra equipment or props, and that offer high health benefits - swimming is hard to beat. And while it'd take some intensity to get you quite as slick as Chad, swimming can definitely help streamline your body, no matter what shape you're in.
Swimming offers a total-body workout in just 20 minutes, making it a great option if you're trying to fit exercise into your busy day, says Steve Attwell, chairman of ATC Multisport and head coach at Embark.
It gets all your muscles, tendons and joints moving without them bearing weight. This means that you can swim more often, and for longer (as compared to a high-impact sport like running), with a lower risk of injury, Attwell adds.
Plus, swimming helps train your body to control your breath effectively - a technique that, once mastered, can improve your performance in many other sports, such as running and cycling.
So if you're keen to beat the heat this summer - the pool beckons! To get you going, try this this handy time-based swimming workout designed by Attwell:

Discovery products recommended for you
Stay healthy and get rewarded
Find out how Discovery Vitality can help you lead a healthy life – and get rewarded for it, from loads of exciting lifestyle partners like Kulula, Ster Kinekor, Kauai and more.
How Vitality works
Earn points in the pool with Vitality!
Keen to claim a free Vitality Active Rewards this week?
Remember, if you achieve your weekly fitness goal three times in a row, you'll get a surprise reward - which could be anything from a retail voucher to a dream holiday!
If you want to hit your target by swimming, you can use a (water-resistant!) Vitality-linked fitness device.
Pushing limits and shedding pounds: How Dumi found a sport she loves
Spring brings a scurry of activity as the earth bursts into life. Use this season to fall in love with a fitness activity that keeps you coming back for more. Dumisile Mthalane did just that. By finding a sport where she can soak up the sunshine, she's transformed the way she looks, thinks and feels.
Wayde van Niekerk sprinted to a world first and new SA record of 19.84 seconds in the 200m half-lap in Jamaica. We celebrate his extraordinary 19-second (or so) achievement with 19 key insights shared during our most recent interview with him.
Can you keep up with Wayde and Chad?
Recent championships have tested the mettle of Vitality Ambassadors Chad le Clos and Wayde van Niekerk - and not found them wanting! Their impressive list of new records and humble approach to excellence will inspire you to be your best every day.