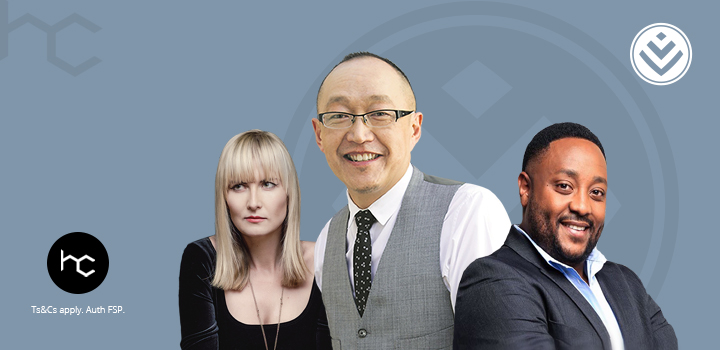 What does the future hold? How can businesses evolve to truly benefit from the trends of change? Dion Chang, Bronwyn Williams and Musa Kalenga are 'The Futurists' with the insight and know-how. Join us for the first Inspire Session of the new decade to learn about the pathways of reaching new heights…
It's the beginning of a new decade and we're not only looking forward to establishing bright new beginnings, we also have our sights on the future trends that are well-set to re-shape the world we live and operate in.
We've invited some of the most creatively analytical minds to share with us the trends they foresee as being the most impactful for businesses today. With their collective experience and knowledge, our guests are greatly looking forward to sharing their thoughts and expertise regarding macro and micro-environmental shifts.
Join us, as we, Discovery Business Insurance and Heavy Chef, host a futuristically fascinating evening in the company of Dion Chang, Bronwyn Williams and Musa Kalenga on 28 January 2020 at the Discovery Head Office in Sandton, Johannesburg.
Meet The Futurists
Dion Chang is the founder of Flux Trends, an organisation that looks at trends in a way that better informs business strategy. A respected trends analyst, Chang has been described as a "strategic thinker, keynote speaker, a walking ideas bank and professional cage rattler". His analytical mind is perfectly primed to source unidentified business opportunities within trends as they evolve. Chang doesn't just "look to the future" for opportunities, he also takes the shifts of the past into account. He'll be sharing an analysis of "the state we're in" based on how the shifts of the past and present are shaping the future. He'll also provide insight into how Flux Trends see the changing landscape of business strategy as organisations seek more dynamic opportunities.

Bronwyn Williams joined forces with Flux Trends in 2011 and holds the titles of Trends Translator and Future Finance Specialist. She is also the founder of Apollo42 – an organisation that offers "specialist thinking for the brands of tomorrow". With a history of trends research, publishing and marketing management in the financial and B2B industries, Williams more than has her finger on the pulse. She'll be sharing valuable perspectives and insights on concepts such as escapism, designer humans and the hyper-personalisation of everything. She'll also be delving into the capabilities of VR/AR, and how they're set to re-shape how people and businesses alike, progress.

Musa Kalenga is one of three Founders of the organisation, Bridge Labs – a business built on enabling "the digitally invisible ecosystem with the use of design thinking and technology". The business prides itself on bringing to the table, "entrepreneurial energy" in order to build the kind of partnerships that produce innovative and creatively compelling business strategies and solutions. Kalenga's experience is deeply rooted in strategic planning and he'll be sharing insightful tips and thoughts on how to practically and seamlessly embrace technology during the 4th Industrial Revolution..
Book now to discover new trends with The Futurists
Date: 28 January 2020, Tuesday
Time: 18:00 (for 18:30) to 20:30
Place: Discovery Head Office - 1 Discovery Place Sandton, GP, 2196 South Africa
Upon arrival, you will be offered a choice of complimentary beverage while mingling with other attendees of this event. You can choose to have a glass of wine, smoothie, juice, cup of coffee or glass of ice-cold sparkling water.
Heavychef CEO, Fred Roed will be the MC for the evening. Tickets are limited and will be processed securely through Quicket.
Book your tickets now for this not-to-be-missed event here.
About 'Inspire' sessions
We've lined up some of the country's most loved and respected innovators and disruptors to these evening Inspire sessions. A limited number of tickets are available for audiences to see our panel of technologists, leaders and creatives live and in action. For more information on our remaining sessions, visit Heavy Chef here.
About business insurance from Discovery
We understand that different businesses have different needs. That's why we give you comprehensive, yet flexible, insurance cover that is tailored to your business and considers the business risks you face in a modern, fast-paced world. You'll get business insurance that is driven by technology and built on a model that shares value for managing your business well. Through our partnership with Endeavor South Africa you'll have access to a diagnostic tool that will help you identify key areas of development so that you can grow your business. In addition, you will get access to service providers, at a preferential rate, who can help your business develop in the right direction. To find out more, speak to your broker or contact us and we will help you.

Inspire events: How creative thinkers became The Community Builders
How do you create longevity in a business built around a sense of community? Our next set of panelists, Arlene Mulder, Sam Bendzula and Shaun Duwe are experienced 'Community Builders' with a creative touch. Join us for the next Inspire Session in Cape Town to find out more

Inspire events: The future of finance
Discovery Business Insurance and Heavy Chef are hosting the next installment of the Inspire session series on 26 November 2019. This time around, we'll be learning about the future of finance with 'The Fintechnologists'.