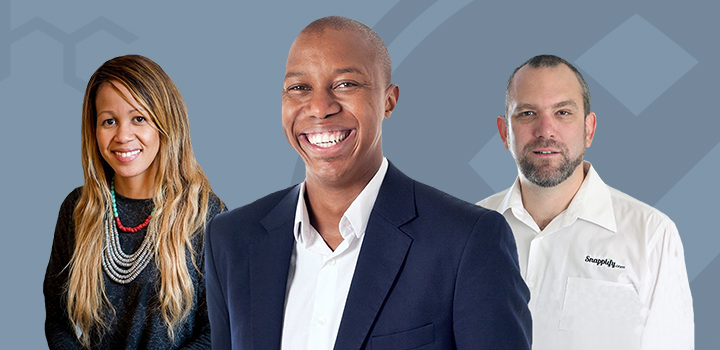 'Inspire' sessions, in partnership with Discovery Business Insurance and Heavy Chef have invited three CEOs who can all truly be proud of the successful community orientated platforms they have created.
If tech startups are of interest to you, then this Inspire series session is one that you most certainly will want to be part of.
Sharing the stage together are three CEOs with a success story that will no doubt inspire any entrepreneur with a clever business idea up their sleeves.
Aisha Pandor, Katlego Maphai and Wesley Lynch have each experienced numerous challenges along with exciting opportunities during the creation of their respective businesses. Each CEO will take you through their journey and share all of the valuable lessons they learned along the way.
Meet the CEOs who have created The Platforms many know and love
Aisha Pandor is the CEO and co-founder of Sweepsouth, a platform that allows you access to experienced and reliable cleaning services in a jiffy. The company has been praised as one of the best start-up business services on the continent.
Katlego Maphai is the CEO of Yoco, a business that offers the opportunity for vendors to own card machines with only a single payment and a host of fuss-free features. The company has recently achieved a milestone of 50 000 merchants and is showing no signs of slowing down just yet.
Wesley Lynch is the CEO of Snapplify, an edtech business that offers digital learning services, providing educational content for a variety of devices. The business is currently working on expanding their offering on a global scale.
Book now to meet CEO's of The Platforms
Date: 31 October 2019, Thursday
Time: 18:00 for (18:30) to 20:30
Place: Workshop 17, 17 Dock Road, Cape Town
Upon arrival, you will be offered a choice of complimentary beverage while mingling with other attendees of this event. You can choose to have a glass of wine, smoothie, juice, cup of coffee or glass of ice-cold sparkling water.
Heavychef CEO, Fred Roed will be the MC for the evening. Tickets are limited and will be processed securely through Quicket.
Book your tickets now for the not-to-be-missed event here.
About 'Inspire' sessions
We've lined up some of the country's most loved and respected innovators and disruptors to these evening Inspire sessions. A limited number of tickets are available for audiences to see our panel of technologists, leaders and creatives live and in action. For more information on our remaining sessions, visit Heavy Chef here.
About business insurance from Discovery
We understand that different businesses have different needs. That's why we give you comprehensive, yet flexible, insurance cover that is tailored to your business and considers the business risks you face in a modern, fast-paced world. You'll get business insurance that is driven by technology and built on a model that shares value for managing your business well. Through our partnership with Endeavor South Africa you'll have access to a diagnostic tool that will help you identify key areas of development so that you can grow your business. In addition, you will get access to service providers, at a preferential rate, who can help your business develop in the right direction. To find out more, speak to your broker or contact us and we will help you.

'Inspire' events: Making a success of media minefields
'Inspire' sessions, in partnership with Discovery Business Insurance and Heavy Chef are hosting the fourth installment of the series on 19 September 2019. Join the 'Media Mavens', Elizabeth Lee Ming, Richard Poplak and Gareth Cliff for an insightful evening.

'Inspire' events: Learning from 'The Educators' in Cape Town
The third installment of the Discovery Business Insurance and Heavy Chef 'Inspire' series for entrepreneurs saw a panel of educators share a wealth of experience and knowledge to a sell-out crowd. Enlightening the audience were former President, Thabo Mbeki, Sam Paddock and Rapelang Rabana.