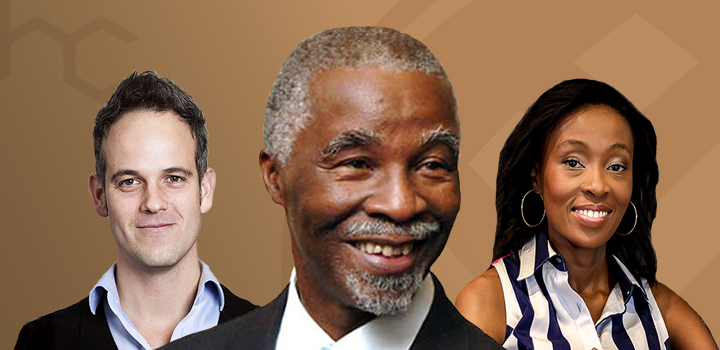 The third installment of the Discovery Business Insurance and Heavy Chef 'Inspire' series for entrepreneurs saw a panel of educators share a wealth of experience and knowledge to a sell-out crowd. Enlightening the audience were former President, Thabo Mbeki, Sam Paddock and Rapelang Rabana.
The Educators took to the stage in Cape Town in front of a sold out crowd on 5 September 2019, and shared their views as to why they believe education is the very foundation of future business development.
This panel discussion was organised as a follow-up session to a very successful education – focused event held a year ago.
All of our respected panelists were hand-picked to join us in a discussion about how the fourth industrial revolution is impacting learning processes today, and the ways Africa can adjust to take up the challenge of change, and achieve thriving successes.
Meet The Educators
Former President of South Africa, Thabo Mbeki, joined by the CEO of the Thabo Mbeki Foundation, Max Boqwana highlighted the importance of education as a lifelong learning commitment and its role in future successes, not only for our own nation, but others around the globe too.

"It's not a country's mineral wealth that changes society for the better, but it's human capital," former President Thabo Mbeki said during his address.

Former CEO of GetSmarter, Sam Paddock shared his thoughts on how behaviour, mindset, technology and personal values can effectively empower individuals to learn and prosper.

"Evidence suggests that online learning alone is not the answer. With a digital approach to learning, we are looking at something we can measure. When we start measuring the learning, it becomes a science," he said.

Technology entrepreneur and one of South Africa's most respected voices on education, Rapelang Rabana, also shared her views as to how education can help to shape a new world of learning.

"When one has an "out of comfort zone" experience, one is developing neurology and the mind. This allows us to be responsive and adaptable. This is learning," she said.
Other speakers adding further value to the evening's discussions included Spanish Secretary of State for Trade, Xiana Méndez, Minister of Education, Angie Motshekga, Guy Levin and Lukhanyo Neer.
About 'Inspire' sessions
We've lined up some of the country's most loved and respected innovators and disruptors to these evening experiences. A limited number of tickets are available for audiences to see our panel of technologists, leaders and creatives live and in action. For more information on our remaining sessions, visit Heavy Chef here.
About business insurance from Discovery
We understand that different businesses have different needs. That's why we give you comprehensive, yet flexible, insurance cover that is tailored to your business and considers the business risks you face in a modern, fast-paced world. You'll get business insurance that is driven by technology and built on a model that shares value for managing your business well. Through our partnership with Endeavor South Africa you'll have access to a diagnostic tool that will help you identify key areas of development so that you can grow your business. In addition, you will get access to service providers, at a preferential rate, who can help your business develop in the right direction. To find out more, speak to your broker or contact us and we will help you.
'Inspire' a new series of events for entrepreneurs
Heavy Chef and Discovery have come together to create a new series of events and learning experiences to inspire entrepreneurs and business owners. Kicking off 'Inspire' in August 2019, are Adrian Gore and Barry Swartzberg.