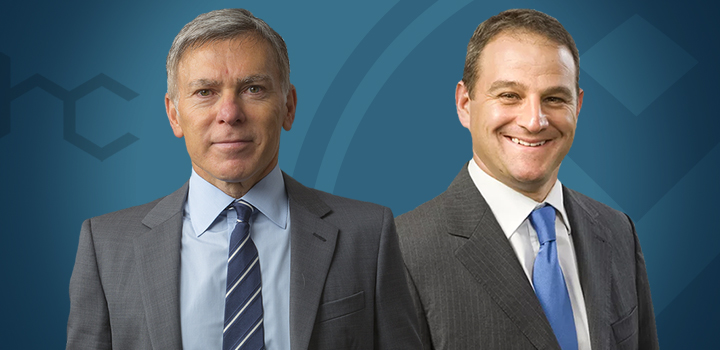 Heavy Chef and Discovery have come together to create a new series of events and learning experiences to inspire entrepreneurs and business owners. Kicking off 'Inspire' in August 2019, are Adrian Gore and Barry Swartzberg.
In South Africa, entrepreneurs and small businesses do not have the same exposure as other business hubs around the world when it comes to ecosystem events and learning experiences. In partnership with entrepreneurship learning platform, Heavy Chef, Discovery Business Insurance aims to enhance the entrepreneurial ecosystem and learning experience with these "Inspire" events.
The sessions will take place in Johannesburg at Discovery Group's headquarters at 1 Discovery Place and at Workshop 17 at the V&A Waterfront, Cape Town.
A message from Anton Ossip - CEO Discovery Insure
"In partnership with Heavy Chef, we are supporting the amazing entrepreneurs we have in South Africa to learn and grow. In our development of Discovery Business Insurance, we set out to provide unique insurance support for the modern business to help our country's small and medium businesses thrive. We believe firmly that enabling learning, building networks and supporting entrepreneurs and businesses will have a remarkable influence to grow this sector, reduce unemployment, increase economic growth and get our country closer to equality."
Book to be at the first 'Inspire' session
'Inspire' kicks off on Tuesday, 6 August with Adrian and Barry who founded Discovery in 1992. They will talk about their experiences, the trials and tribulations of business, the power of positivity and their personal views on what it takes to succeed. A Q&A session will follow their talk.
Date: 6 August 2019, Tuesday
Time: 18:00
Cost: R175
Place: 1 Discovery Place, Sandton
Tickets are limited.
Education and entrepreneurs a positive move for an emerging economy
Fred Roed, CEO of Heavy Chef, added, "This country has untapped potential in its entrepreneur sector. Jack Ma recently said to President Cyril Ramaphosa that an emerging economy should invest in three things: education, entrepreneurs and good governance. The 'Inspire' series focuses on education and entrepreneurs, and hopefully will play a part in drawing interest to this sector."
Louis Janse van Rensburg, Chairman of the Heavy Chef Foundation, says, "This partnership is particularly exciting for us, given that Discovery is one of South Africa's most celebrated entrepreneur success stories. Adrian and Barry are two of South Africa's finest entrepreneurs."
Later in August, 'Inspire' will move to Cape Town. Heavy Chef and Discovery will host two inspiring women, Mina Guli, who ran 40 marathons in 40 consecutive days, and Roxy Davis, nine-time national surfing champion and entrepreneur. This event will coincide with Women's Day festivities in August at Workshop17 at the V&A Waterfront.
About 'Inspire' sessions
We are inviting all innovators and disruptors to these evening experiences to see the greatest technologists, leaders and creatives in action. A limited number of tickets are available. For more information, visit Heavy Chef here.
Seats for both events are limited. Books will be for sale at these events. A recording of each session will be available to watch after the event.
About business insurance from Discovery
We understand that different businesses have different needs. That's why we give you comprehensive, yet flexible, insurance cover that is tailored to your business and considers the business risks you face in a modern, fast-paced world. You'll get business insurance that is driven by technology and built on a model that shares value for managing your business well. Through our partnership with Endeavor South Africa you'll have access to a diagnostic tool that will help you identify key areas of development so that you can grow your business. In addition, you will get access to service providers, at a preferential rate, who can help your business develop in the right direction. To find out more, speak to your broker or contact us and we will help you.