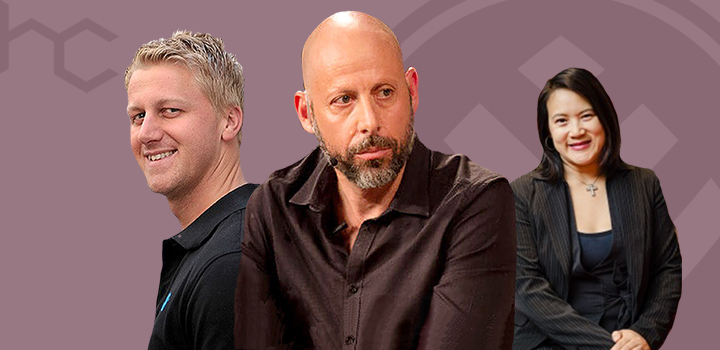 'Inspire' sessions, in partnership with Discovery Business Insurance and Heavy Chef are hosting the fourth installment of the series on 19 September 2019. Join the 'Media Mavens', Elizabeth Lee Ming, Richard Poplak and Gareth Cliff for an insightful evening.
The next entrepreneurial learning experience in the series will be taking place in Johannesburg this month at the Discovery Headquarters in Sandton.
The theme for this influential group of panelists is 'The Media Mavens', all of which have made their own unique and distinctive mark in the world of media in the country. Each will be sharing their experiences and insights into how the media landscape can be effectively used in today's digital age.
Meet The Media Mavens
Elizabeth Lee Ming is a senior member of the Facebook family with more than two decades' worth of experience in the B2B and B2C marketing space. With her extensive knowledge and experience, Elizabeth will share valuable insights around how to better use digital, social and customer relationship media in business today.
Richard Poplak is an esteemed journalist known for occasional controversial perspectives while seeking to relay African stories that get to the very heart of the truth. He'll be sharing how the Daily Maverick is striving to pioneer new media business models.
Gareth Cliff Founder of Cliff Central, is a much loved and often controversial media personality in the country. This now established podcasting pioneer is all set to share his learnings in the field and how he aims to further establish the media practice in Africa – with his usual charm and wit, of course.
Book now to meet The Media Mavens
Date: 19 September 2019, Thursday
Time: 18:00 to 20:30
Place: Discovery Headquarters, 1 Discovery Place, Sandton, Johannesburg
Tickets are limited.
Be sure not to miss this 'Inspire' session which is sure to be an enlightening experience on the value and power of media in the digital age.
About 'Inspire' sessions
We've lined up some of the country's most loved and respected innovators and disruptors to these evening experiences. A limited number of tickets are available for audiences to see our panel of technologists, leaders and creatives live and in action. For more information on our remaining sessions, visit Heavy Chef here.
About business insurance from Discovery
We understand that different businesses have different needs. That's why we give you comprehensive, yet flexible, insurance cover that is tailored to your business and considers the business risks you face in a modern, fast-paced world. You'll get business insurance that is driven by technology and built on a model that shares value for managing your business well. Through our partnership with Endeavor South Africa you'll have access to a diagnostic tool that will help you identify key areas of development so that you can grow your business. In addition, you will get access to service providers, at a preferential rate, who can help your business develop in the right direction. To find out more, speak to your broker or contact us and we will help you.
'Inspire' events: Learning from 'The Educators' in Cape Town
The third installment of the Discovery Business Insurance and Heavy Chef 'Inspire' series for entrepreneurs saw a panel of educators share a wealth of experience and knowledge to a sell-out crowd. Enlightening the audience were former President, Thabo Mbeki, Sam Paddock and Rapelang Rabana.
'Inspire' a new series of events for entrepreneurs
Heavy Chef and Discovery have come together to create a new series of events and learning experiences to inspire entrepreneurs and business owners. Kicking off 'Inspire' in August 2019, are Adrian Gore and Barry Swartzberg.