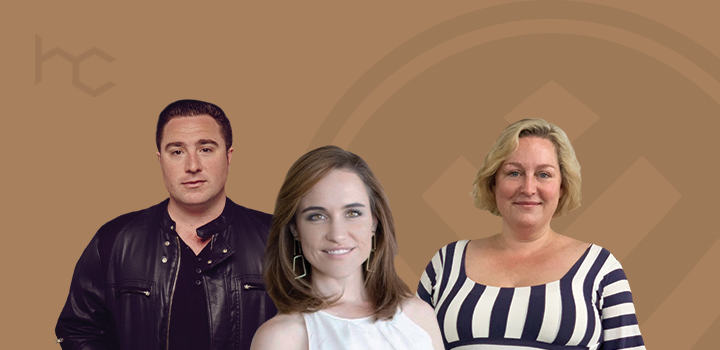 How do you create longevity in a business built around a sense of community? Our next set of panelists, Arlene Mulder, Sam Bendzula and Shaun Duwe are experienced 'Community Builders' with a creative touch. Join us for the next Inspire Session in Cape Town to find out more…
Dance, music, arts and creatively crafted code? Yes, coding can be creatively used, and at this Inspire Session, we've lined up one such individual with a real passion for coding creativity through education.
Joining her are two other extremely talented individuals who have seamlessly crafted businesses centred around community, using their creative passions.
All three have created successful businesses that have flourished, and continue to draw interest year after year.
Join us, as we, Discovery Business Insurance and Heavy Chef, host a fascinating evening in the company of Arlene Mulder, Sam Bendzula and Shaun Duwe on 3 December 2019 at the picturesque Workshop 17 venue in Cape Town.
Meet The Community Builders
Arlene Mulder is the co-founder of tech institute, WeThinkCode_, which offers tuition-free training in software development to South African youngsters keen on developing careers in the industry between the ages of 17 and 35.

With a love of mathematics, valuable experience in the corporate sector and a passion for solving the digital skills gap in the country, Arlene is an innovator who believes in education and creating change for the greater good. She'll be sharing her knowledge and experience around how coding truly can be used creatively to solve many challenges affecting businesses today.

Sam Bendzula is the Director of the Tankwa Karoo's most loved event, AfrikaBurn. A popular and well attended event held annually in the Northern Cape at the end of April, AfrikaBurn brings together a sense of community with a gathering of like-minded artists, performers, musicians, and lovers of all things creative.

The event is known to be the second largest 'Burn-event' in the world, and is radically inclusive for anyone to come and enjoy. Sam has crafted a wondrous way for creativity to be enjoyed with a fantastic sense of community. She will surely introduce the audience to a whole other world that opens up the mind to endless possibilities.

Shaun Duwe is the Director and co-founder of ULTRA South Africa. Part of a worldwide chain of electronic music festivals, the South African events bring together around 50 000 people every year.

A well-known DJ and music promoter, Shaun has been instrumental in bringing some of the biggest names in electronic music to the country and coordinating events where lovers of dance and sound come together. How does he do it? He may just share a secret or two at this session…
Book now to rub shoulders with The Community Builders
Date: 3 December 2019, Tuesday
Time: 18:00 (for 18:30) to 20:30
Place: Workshop17, 17 Dock Road, Cape Town
Upon arrival, you will be offered a choice of complimentary beverage while mingling with other attendees of this event. You can choose to have a glass of wine, smoothie, juice, cup of coffee or glass of ice-cold sparkling water.
Heavychef CEO, Fred Roed will be the MC for the evening. Tickets are limited and will be processed securely through Quicket.
Book your tickets now for this not-to-be-missed even here.
About 'Inspire' sessions
We've lined up some of the country's most loved and respected innovators and disruptors to these evening Inspire sessions. A limited number of tickets are available for audiences to see our panel of technologists, leaders and creatives live and in action. For more information on our remaining sessions, visit Heavy Chef here.
About business insurance from Discovery
We understand that different businesses have different needs. That's why we give you comprehensive, yet flexible, insurance cover that is tailored to your business and considers the business risks you face in a modern, fast-paced world. You'll get business insurance that is driven by technology and built on a model that shares value for managing your business well. Through our partnership with Endeavor South Africa you'll have access to a diagnostic tool that will help you identify key areas of development so that you can grow your business. In addition, you will get access to service providers, at a preferential rate, who can help your business develop in the right direction. To find out more, speak to your broker or contact us and we will help you.

'Inspire' events: Making a success of media minefields
'Inspire' sessions, in partnership with Discovery Business Insurance and Heavy Chef are hosting the fourth installment of the series on 19 September 2019. Join the 'Media Mavens', Elizabeth Lee Ming, Richard Poplak and Gareth Cliff for an insightful evening.

'Inspire' events: Learning from 'The Educators' in Cape Town
The third installment of the Discovery Business Insurance and Heavy Chef 'Inspire' series for entrepreneurs saw a panel of educators share a wealth of experience and knowledge to a sell-out crowd. Enlightening the audience were former President, Thabo Mbeki, Sam Paddock and Rapelang Rabana.