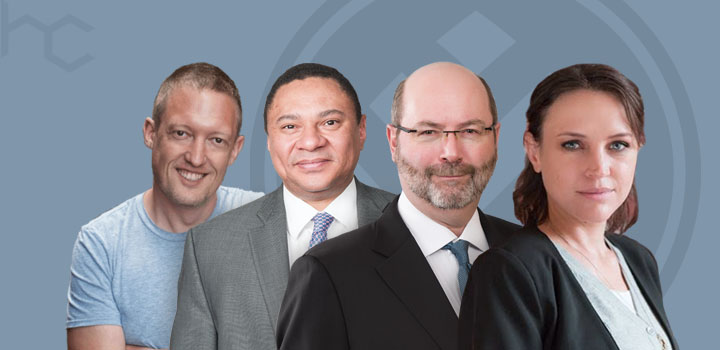 'Discovery Business Insurance and Heavy Chef are hosting the next installment of the Inspire session series on 26 November 2019. This time around, we'll be learning about the future of finance with 'The Fintechnologists'.
Have you noticed how quickly the financial sector is changing lately? Fintech is now seemingly well-set around the world. Numerous organisations and newly established systems are gearing up to further influence how we manage money in the coming months and years. What kinds of innovative advancements could be in store for consumers around the world?
We've lined up a group of panelists with insights into just how this could unfold for a session that is sure to be fascinating. On Tuesday, 26 November, four incredibly clever and creative minds will be coming together to share their insights on the future of finance at the Discovery Headquarters in Sandton, Johannesburg.
All four CEOs have a wealth of experience and knowledge behind them, and have contributed significantly to the financial startup sector in their own respective ways. This two-hour session with our group of 'Fintechnologists' is a not-to-be-missed event.
Meet The Fintechnologists
Kristia van Heerden is the CEO of Just One Lap, an independent trading and investment education portal.

Kristia joined this Fintech organisation in 2015, four years after it was founded by media personality, Simon Brown. Her new role followed an established award-winning career as a financial journalist and online editor. Kristia, herself has a personal history with floundering finances and has learned a great deal about getting into a financially fit position within her own life.

Through education and support, she overcame her financial challenges and now strives to help others through her work at Just One Lap, which aims to empower individuals with all the educational tools they need to better manage their money and financial portfolios.

Barry Hore is the CEO of Discovery Bank and has long history of established successes within the finance sector.

He was instrumental in pioneering an electronic banking business and helping to re-engineer back office operations, as well as develop critical IT functionality and technological platforms. This has influenced the landscape of banking and contributed to substantial progress being made in the industry through his decades' long career.

Now, he leads the way with a new system of digital banking – behavioural banking at Discovery Bank. Barry will be sharing many valuable learnings from his career in modernising technology within this industry.

Francois Groepe is the Deputy CEO of Discovery Bank and joins Barry is making definitive changes to the way in which we all manage money through the banking sector. Francois is a former Deputy Reserve Bank Governor and was also previously employed as the Group Managing Director and CEO of Media24.

With his vast experience, Francois will be sharing numerous insights learned over the years and how he sees the future of banking taking shape going forward.

Simon Dingle is the CEO of Lettuce, a mobile application that allows consumers the opportunity to stay up to speed with financial information and investments at anytime, anywhere.

Simon worked in both radio and the magazine industry. He has also worked as a communications consultant, product manager, and podcaster. To add to his diverse portfolio, he even penned a book, titled 'In Math We Trust'.

Now, an entrepreneur in the finance space, Simon's business offers all you would need in one application covering stocks, cryptocurrencies, ETFs, forex, commodities and US mutual funds. A pioneer in the cryptocurrency market, Simon is highly regarded in Fintech circles, both locally and abroad.
Book now to meet The Fintechnologists
Date: 26 November 2019, Tuesday
Time: 18:00 (for 18:30) to 20:30
Place: Discovery Headquarters, 1 Discovery Place, Sandton, Johannesburg
Upon arrival, you will be offered a choice of complimentary beverage while mingling with other attendees of this event. You can choose to have a glass of wine, smoothie, juice, cup of coffee or glass of ice-cold sparkling water.
Heavychef CEO, Fred Roed will be the MC for the evening. Tickets are limited and will be processed securely through Quicket.
Book your tickets now for this not-to-be-missed event here.
About 'Inspire' sessions
We've lined up some of the country's most loved and respected innovators and disruptors to these evening Inspire sessions. A limited number of tickets are available for audiences to see our panel of technologists, leaders and creatives live and in action. For more information on our remaining sessions, visit Heavy Chef here.
About business insurance from Discovery
We understand that different businesses have different needs. That's why we give you comprehensive, yet flexible, insurance cover that is tailored to your business and considers the business risks you face in a modern, fast-paced world. You'll get business insurance that is driven by technology and built on a model that shares value for managing your business well. Through our partnership with Endeavor South Africa you'll have access to a diagnostic tool that will help you identify key areas of development so that you can grow your business. In addition, you will get access to service providers, at a preferential rate, who can help your business develop in the right direction. To find out more, speak to your broker or contact us and we will help you.

'Inspire' events: Making a success of media minefields
'Inspire' sessions, in partnership with Discovery Business Insurance and Heavy Chef are hosting the fourth installment of the series on 19 September 2019. Join the 'Media Mavens', Elizabeth Lee Ming, Richard Poplak and Gareth Cliff for an insightful evening.

'Inspire' events: Learning from 'The Educators' in Cape Town
The third installment of the Discovery Business Insurance and Heavy Chef 'Inspire' series for entrepreneurs saw a panel of educators share a wealth of experience and knowledge to a sell-out crowd. Enlightening the audience were former President, Thabo Mbeki, Sam Paddock and Rapelang Rabana.