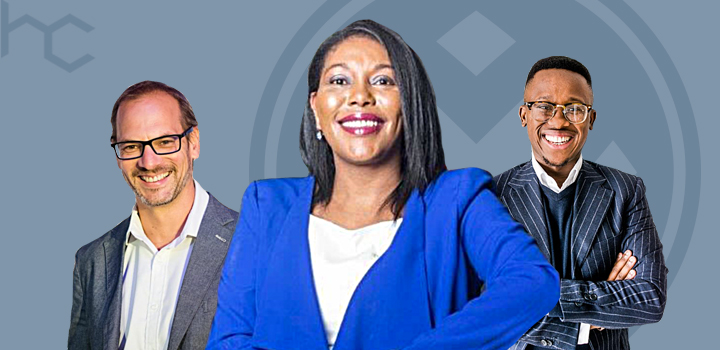 We have more business investment expertise lined up for you in our next Inspire Session this month. Keet van Zyl, Cora Fernandez and Nolo Masite make up our second panel of 'Investors' and are all set to share a wealth of experience and expertise with us in Cape Town during the last week of February.
As a business owner, how do you best go about raising the funds you need to see your company achieve ideal growth?
To learn more about how to make a business an investable one, we've lined up a panel with an incredible amount of experience and expertise. Our latest batch of 'Investors' have a long list of investment and business growth successes, and are set to share with us what it really takes to encourage the right kind of investment for optimum business growth.
Join us, as we, Discovery Business Insurance and Heavy Chef, host an insightful evening in the company of Keet van Zyl, Cora Fernandez and Nolo Masite on 27 February 2020 at Workshop 17 in Cape Town.
Meet our second panel of 'Investors'
Keet van Zyl is the co-founder of Knife Capital, a venture capital firm, which was established in 2010 as the South African arm of 'Here Be Dragons' (HBD) Venture Capital. Prior to establishing this business, Keet, earned extensive high-growth investment experience within industry-leading organisations including Investec Bank and Procter & Gamble. He was also instrumental in structuring various private equity funds for a US fund-of-fund investor.

At Knife Capital, Keet continued to manage the South African portfolio of growth equity investments by raising third-party funds. A go-getter, Keet is all set to share with us his passions for building an effective early-stage funding ecosystem and the various learnings he has accumulated during his extensive career.

Cora Fernandez is the founder of Sphere Holdings, where she currently serves as a board member, as well as chairs the company's Remuneration Committee. Cora began her private equity career at Ethos Private Equity in 2001. Five years later, Cora became the Deputy CEO of Private Equity at Sanlam. It wasn't too long before she was appointed the CEO of Sanlam Private Equity. In 2006, Cora was also awarded the 'Top Private Equity Deal-maker' of the year. The awards and accolades continued in 2008 and 2009 where she was presented with the Sanlam CEO's award for her deal-making capabilities and successes.

In 2012, Cora became the Managing Director of Sanlam Investment Management. She soon moved on to become the Chief Executive of Sanlam Investments Institutional Business. During her tenure she oversaw the management of pension funds, provident funds, retirement funds, endowments and unions.

Cora has served on numerous boards, board sub-committees, advisory boards and investment committees over the years, some of which include The Southern African Venture Capital and Private Equity Association (SAVCA), Tiger Brands Limited, Tiger Brands Audit Committee, Tiger Brands Risk and Sustainability Committee, Spur Corporation (including its Audit and Risk Committees), the Investment Committee of 27Four's Black Business Growth Fund and the Investment Committee of the National Empowerment Fund. Cora also serves as an independent trustee at Allan Gray (pension, provident, retirement annuity and umbrella funds).

As one of the country's leading private equity professionals, Cora has extensive experience and expertise, and there is plenty for us all to learn from.

Nolo Masite is the founder of Mm Capital Holdings, an organisation which partners with dedicated entrepreneurs and specialist innovators with the aims of capital growth and expansion. Nolo began his career as a trainee accountant at KPMG, working in the mining assurance division. He then gained further experience at Sasol and the British American Tobacco (BAT) company. At BAT, he fulfilled various roles both locally and globally, including that of Corporate Finance & Mergers and Acquisitions Manager, as well as the Treasurer for BAT's southern region.

Nolo enhanced his investment knowledge and experience at Remgro, focussed primarily on unlisted investments and food agriculture. Among a new generation of professionals with a core focus on food security and growing agricultural businesses, as well as providing support to the country's black farmers, Nolo is passionate about investing in the agricultural sector.

With his experience in business management, accounting and the agricultural sector, Nolo will surely share some fascinating insights into the business of investing in farming.
Book now to learn from The Investors
Date: 27 February 2020, Thursday
Time: 18:00 (for 18:30) to 20:30
Place: Workshop 17, 17 Dock Road, Cape Town, Western Cape, 8002, South Africa
Upon arrival, you will be offered a choice of complimentary beverage while mingling with other attendees of this event. You can choose to have a glass of wine, smoothie, juice, cup of coffee or glass of ice-cold sparkling water.
Heavychef CEO, Fred Roed will be the MC for the evening. Tickets are limited and will be processed securely through Quicket
Book your tickets now for this not-to-be-missed event here.
About 'Inspire' sessions
We've lined up some of the country's most loved and respected innovators and disruptors to these evening Inspire sessions. A limited number of tickets are available for audiences to see our panel of technologists, leaders and creatives live and in action. For more information on our remaining sessions, visit Heavy Chef here.
'Inspire' Events: Building Businesses with The Investors
What does it take to build a business and see it flourish? Bame Pule, Polo Leteka and Clive Butkow are 'The Investors' who have all done it themselves and enjoyed the fruits of their success. Now, they're keen to share their learnings and insights with us at our next Inspire Session in Johannesburg this February.
'Inspire' a new series of events for entrepreneurs
Heavy Chef and Discovery have come together to create a new series of events and learning experiences to inspire entrepreneurs and business owners. Kicking off 'Inspire' in August 2019, are Adrian Gore and Barry Swartzberg.