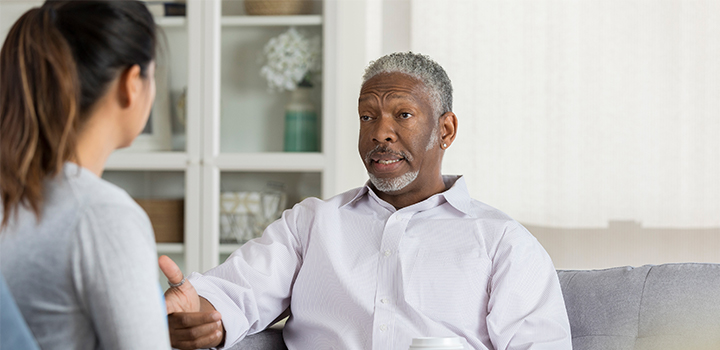 It isn't easy to share your cancer diagnosis with others, especially if you're still battling to come to terms with it yourself. Thinking about going public in the workplace can understandably fill you with anxiety and fear.
However the sooner you talk to your employer and trusted colleagues about your new reality, the sooner you'll have their support. And, if there are any issues or problems that need to be dealt with, you can tackle them right from the start.
"Your professional life will be a whole lot easier if you and your colleagues are educated about cancer," says breast cancer survivor Samantha Brown - who continued to work in a senior position throughout her treatment and recovery. Hers wasn't a great experience – at first.
"When I broke the news about my cancer at work, I was quite shocked by the response I received. Although many of my co-workers were very supportive, others were quite insensitive. I felt really let down at times, for example, when my diagnosis was shared with others without my consent, or when faced with intrusive questioning by colleagues and management. It was a huge blow to be penalized for absenteeism and exhaustion even though I'd taken sick leave and had arranged to work flexi-time. The final straw was when I was asked not to come to work without covering my head after I'd lost my hair."
Communicate and educate
Samantha soon realized that the best way to handle the situation was to learn as much as she could about her illness and to then educate others: "It became very apparent that I was as ignorant about cancer as my colleagues were and that many of them were even more terrified of the disease than I was. So I researched my cancer in detail and also made sure that I knew everything about my workplace rights and how to handle the never-ending work and insurance-related red tape. I was then able to respond and communicate from a position of strength which made a huge difference."
"What also greatly helped," adds Samantha, "was maintaining a positive attitude - and a sense of humour - even when the going got tough. This seemed to put others at ease and made me feel a little more normal. It also gave me the opportunity to share, explain and teach, and I started receiving overwhelming support and compassion from many of my co-workers, via email, text messages and hugs. Remember that communication is vital in the workplace and you need to avoid assumptions at all costs. Your employers will have expectations even though you are fighting this disease, so be sure to keep them up to date on your progress and how you are doing".
Cancer and the workplace
The Cancer Association of South Africa (CANSA) offers the following tips on how to engage with your employer:
Break the news as soon as possible. Your employer will need certain information from you in order to assess how your diagnosis will affect your working capabilities and productivity. You don't have to go into details but you will need to explain the nature and length of your treatment plan and the possible side-effects you may have to deal with.
Offer carefully thought-out solutions. Suggest ways in which you'll be able to continue to do your job and what adjustments may need to be made - but always be realistic. Chat to your medical team before your meeting so you'll have a general idea of your capabilities during treatment.
Be confident and assertive no matter how bad you may feel. During treatment you're going to be tired and weak and there will be times you'd like to chuck it all in. You may also find yourself being unfairly treated but far too exhausted to care. Never give up! Make sure that you know your rights according to your companies' Severe Illness protocol and, if not in place, help them to develop one. And never ignore the presence of any kind of discrimination against you – it's essential that you find the strength to deal with this.
(You may also be interested in knowing more about the financial cover you may have access to, through workplace Group Risk benefits. Read more about this here.
How to talk to your colleagues
Aside from the need to tell your employer, it's up to you to decide who else to confide in at work. While it's extremely important to surround yourself with positive workplace support from co-workers and mentors to help you maintain that much-needed sense of equilibrium, you may be wary about going public on a general scale.
Remember that people will probably talk if you're uncharacteristically taking time off or your performance is not up to scratch, so it may be better to share your news upfront in order to prevent any awkward questioning or rumours. But never feel pressurised into doing anything you're not comfortable with – it's your body and your journey, so every decision is yours.
Severe illness can be life-changing. Discovery is here for you
At Discovery, we understand that an illness like cancer affects many aspects of your life. If you're a Discovery Health Medical Scheme member who is diagnosed with cancer, you are covered by a comprehensive Oncology Programme. You'll also have access to a palliative care programme, which offers unlimited cover for approved care at home.
To protect you financially, Discovery Life offers the best dread disease product in the market for cancer cover, as awarded by the Independent Clinical Oncology Network. Our award-winning LifeTime Max 200% Severe Illness Benefit offers coverage across the full spectrum of severities and coverage for remission of a cancer. Contact us to learn more.
The Discovery Health Medical Scheme is an independent non-profit entity governed by the Medical Schemes Act, and regulated by the Council for Medical Schemes. It is administered by a separate company, Discovery Health (Pty) Ltd, an authorised financial services provider.
You've just been diagnosed: now what?
'Cancer.' Hearing your doctor utter the word can see you experience a heart-stopping moment, coupled with shock, disbelief and terror. These normal reactions can send you into a complete tailspin, as you begin exploring your options.
Navigating your Cancer Journey
'You're not alone'. While these three little words may offer little comfort while you're reeling from the shock of being newly diagnosed, it's an absolute given that no one ever faces their cancer journey in isolation.
Finding your cancer voice is extremely empowering and will keep you in the know every step of the way. And if you're not getting all the answers you need, go for second, third or even fourth opinions until you do!