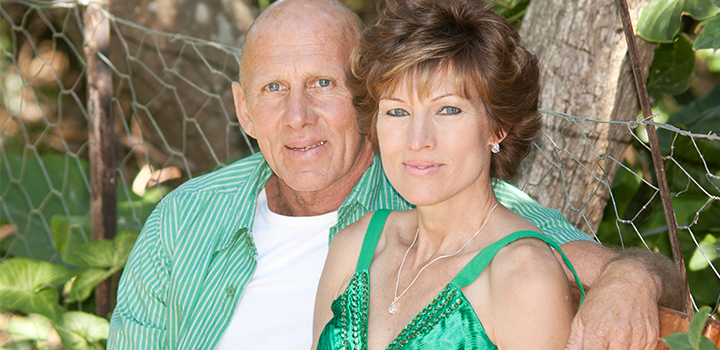 Eight years ago, super-fit building contractor and former Half Ironman competitor Michael Kirkhoff found himself lagging behind rivals in competitions and fun rides. He only started to understand why three years later, when he was diagnosed with leukaemia.
In 2011, East London building contractor Michael Kirkhoff thought his fifties had caught up with him when he started suffering from recurring laryngitis and exhaustion, and cortisone failed to ease his symptoms.
Three years later, haematologist Dr Mike Webb diagnosed him with Myelodysplastic syndrome – a group of cancers in which blood cells in the bone marrow do not mature properly – which soon progressed to full-blown leukaemia.
Michael continues in his own words.
Five years to live
I remember thinking, with great relief, thank you, Lord, now we can get to the bottom of this. Dr Webb put me on blood-building injections and told me I had about five years to live. I wasn't very happy, but thought I'll take what comes. My Christian faith helped me cope. I believed my trust in the Lord had already cured me; I have to wait for the right time.
Siblings not a bone marrow match – overseas search begins
After they tested my three siblings and found none was a stem-cell match for a bone-marrow transplant, Discovery Health Medical Scheme put me on the South African Bone Marrow Registry search list. Sadly, there was no match for me in South Africa. I was on Discovery Health's KeyCare Plus medical plan, which didn't cover the R314 000 cost of international bone-marrow harvesting. So, I upgraded to the Coastal Saver Plan, which would cover all costs – international search and bone-marrow harvesting as well as transplant and hospital costs. I was assessed and passed as a suitable candidate for a bone-marrow transplant by Professor Nicolas Novitzky, Head of the Division of Haematology at the University of Cape Town and Principal Specialist at the UCT Private Hospital.
Bone-marrow transplant – 9 August 2017
In March 2017, the SA Bone Marrow Registry found three possible bone-marrow matches in Germany of which one was a match. I was overwhelmed with relief and all my anxiety and frustration dissipated when the transplant dates were set at the UCT Private Academic Hospital.
The bone-marrow transplant happened on 9 August 2017 and I was discharged on 3 September 2017. I spent four months in Cape Town with family to be near my treatment facility. I travelled to Groote Schuur Hospital weekly for blood counts and check-ups and would drive around the Cape Peninsula, taking in the sights or walking the beaches. Everything seemed so amazingly beautiful and fresh. I have a new appreciation for God and nature. I finally drove back home to East London on Boxing Day, 2017.
From March to June 2018, I drove back and forth between East London and Cape Town every two weeks for tests. In April 2018, I went for a chimerism test to check how my donor DNA is improving. You want a reading of about 95% of your donor DNA. In two months [March to April], my reading had improved from 86.14% to 88%.
In 2019, Michael is in semi-isolation but hopeful
I've been back in East London since June 2018. My donor DNA reading is now at 90%. It hasn't taken me over completely yet. There hasn't been a rejection – it's just taken a little bit longer.
Professor Novitsky instructed me to stay away from crowds and not to let anyone I'm living with come close if they have an infection, as the immuno-suppressants put me at major risk of infection. I'm still in semi-isolation but I've accepted it; it's normal for me not to see anybody. For the last few months, I've been able to get people around to my house to have fellowship with them – just to be with people again.
I do shorter runs of 5 km. I've been working on my smallholding. I have two workshops and 25 garages that I rent out. I keep busy by doing maintenance and trying to get another workshop up so I can rent it out.
Michael's advice to others diagnosed with leukaemia
I'd say to them, "Do you know the Lord?" He's our healer. The doctors are there to help Him with our healing. People ask me, am I not sorry that all of this has happened in my life? Would I take my leukaemia back? I say no, I'm glad it's happening because now I have a relationship with the Lord. I'm on a whole new voyage with the Lord. I trust the Lord completely. I never doubt Him. I haven't had one infection since I've been back from Cape Town since June last year. I thank the Lord for protecting me from everything.
My other advice is to make sure you're covered sufficiently with medical funding and take whatever medicine your doctor prescribes for you. Discovery has been amazing to us. If they say they'll get back to you within three days, they do. Their staff is unfailingly kind and compassionate. My wife and I want to thank their oncology staff members. I cannot tell you what it's meant to us financially. We would have had to sell our house, if not for them.
Setting post-cure goals
The things that keep me going include an awesome relationship with my 21-year-old daughter from my first marriage who lives with my ex-wife in Blouberg, Cape Town. The other mainstay is that I've always believed I'd get better. I have goals for when I'm well again – and one of them includes doing my second Half Ironman. My wife and I look forward to the day when we can run and cycle together again. We met through cycling and spent many happy times travelling around South Africa to participate in cycling events (both road and mountain bike). My wife and I are better than we've ever been. We now understand what life is all about.
My God is mightier than any cancer. I turn my eyes to the Lord and surrender everything into His hands. I say thank you every day that I'm still here.
The Discovery Health Medical Scheme is an independent non-profit entity governed by the Medical Schemes Act, and regulated by the Council for Medical Schemes. It is administered by a separate company, Discovery Health (Pty) Ltd, an authorised financial services provider.
Surviving three cancer diagnoses to marry the love of her life
Since 2013, Anneke Stocker has hung onto her seat in a rollercoaster ride with cancer. She has survived Stage 4 non-Hodgkin's B-cell lymphoma cancer of her digestive tract and a bone-marrow transplant in 2018. And, in May 2019, Anneke got married!
Bone marrow transplant saves Thinus' life
Bone-marrow stem cell transplant recipient, Thinus Janse Van Rensburg, has survived Non-Hodgkin's Lymphoma – twice. Discovery's cover gave him both top medical care and his salary in full for two years - giving him time to focus on healing.
11-year old Hendrik Stopforth beats Leukaemia
Hendrik Stopforth's Acute Myelodysplastic Leukaemia (AML), was a two-year trial by fire during which his family bonded strongly, received huge support from extended family and was financially buoyed by the generosity of strangers.