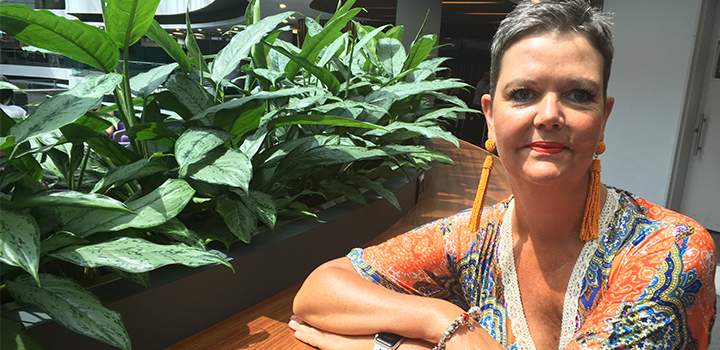 A country and western song by Tim McGraw kept two-time breast cancer survivor Penelope Howie, emotionally strong through multiple, challenging treatments. Written after McGraw's dad died of cancer, "Live like you were dying" stems from advice to his son.
"My own dad was a huge muso (musician) and played in several bands. So, when I lived in the United States for two years, I developed a deep love for country music. That song got me through my cancer. It is my favourite in a huge iPod playlist I have. McGraw's dad told him when he lived like he was dying, he'd realise how precious life was," says Penelope Howie - a motivational speaker and cancer survivorship activist.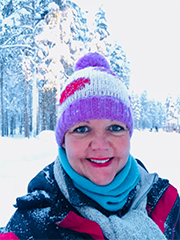 Penelope Howie celebrates cancer survivorship with a snowy holiday in January 2018
Listen to our podcast on Cancer Survivorship and hear Penelope Howie share her remarkable insights into living life to the full, having twice survived breast cancer, here.
After finding a mass under her arm, Howie underwent a lumpectomy and was diagnosed with Stage 2 Oestrogen-positive breast cancer in the year 2000, at 30 years old. The cancer had spread from one breast where a second lump was subsequently detected, and also surgically removed. She underwent fortnightly chemotherapy for six months, followed by 30 time-consuming daily radiation sessions. Then she was fine – for 13 years.
In 2014 she felt what she initially thought was scar tissue from the original lumpectomy in her breast. It turned out to be malignant and triple-negative, meaning it was not oestrogen-linked but very aggressive – a totally different type of breast cancer. Even though it hadn't spread, it required a double mastectomy and four treatments of strong chemotherapy.
"For three days after each infusion I felt terrible. At Day 14, exactly as predicted, my hair began falling out in chunks. I was treated at the Netcare Milpark Breast Care Centre of Excellence under Professor Carol Benn's amazing integrated care team. Cancer research has advanced so much since much since my diagnosis 13 years ago that they told me they would have done a double mastectomy at the outset, had the knowledge been available. As it turned out, I was in and out of the hospital for the double mastectomy and immediate full breast reconstruction in just 33 hours - without a moment's pain," she says.
Listen to our podcast on Cancers in women for excellent insights from Specialist Breast Surgeon, Prof. Carol Ann Benn and Gynaecologist, Trudy Smith, here.
Howie reveals that her mother was diagnosed with oestrogen-positive breast cancer in between her two diagnoses." My poor dad hates hospitals but had to come and see us both. My mom is also fine now," she adds.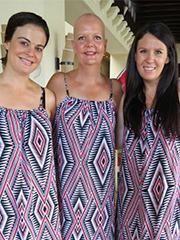 Penelope Howie supported by friends Jeanine Smith and Amanda Theron during her second cancer treatment in 2014
Adapting to not having children
Single when first diagnosed, Howie explored freezing her eggs in 2001, knowing that the chemotherapy and radiation would affect her fertility – but this technology was not available then. She went into treatment-induced menopause for three months after her first round of chemotherapy, but it reversed to normal within a few months. In 2007, she met her future husband. Her husband's brother was one of Howie's work colleagues at the time. And, his brother had asked Penelope to counsel their mother (her future mother-in-law) - who'd contracted cancer. They married but chose not to risk a pregnancy as it would heighten the risk of Howie's cancer returning because of her boosted oestrogen levels, not to mention potentially threaten the life of an infant or render it motherless.
Penelope Howie's cancer inspires 'Project FairyTale'
Howie, now 47, says she's been a voracious reader, especially of fairy-tales and a natural organiser since junior school. Viewing her own cancer remission and romance as a fairy tale, she started what she called Project FairyTale in 2008, taking a year off work to promote cancer prevention and screening.
"Having cancer at 30, I realised there were very few survivors my age I could talk to, it was mainly older survivors whose priorities and outlook were very different, so I vowed to help people my age who had cancer," she says.
To illustrate, she adds; "Age is a big thing; I counselled an 18-year-old girl distraught by losing her hair – to me, at 30, that wasn't important."
Howie began doing motivational talks and hospital visits and soon became sought after by cancer support groups and NGOs. She believes everyone has their own faith and journey to follow and says her Christian belief comforts her in knowing there's another place she's going to. She's not big on brooding over things, preferring action.
"One thing I've learnt never to do, is to ask 'Why?'. There is no answer! I try and see big life events as opportunities for growth. Letting go is a big lesson. People always laugh when I say cancer became a friend. It's always there with me. I'd rather it be with me than not know where it is," she says.
Besides her familial support, her greatest admiration and gratitude are reserved for Prof. Carol Benn's Netcare Milpark Breast Care Centre of Excellence – and Discovery Health Medical Scheme.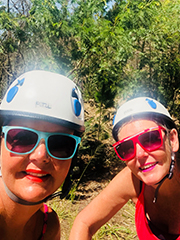 Penelope Howie with her mom Mary-Anne Jeffrey ride Mountain Scooters in Knysna in 2017.
Vitality boosts Penelope Howie's recovery
"I joined Discovery Health's Classic Comprehensive Medical Aid Plan in May 2001, just three months before I was diagnosed the first time. Whatever medical expenses I had, they paid. Not once in my entire journey was anything rejected. Authorisations were quick. They put me on the oncology benefit immediately and there was always somebody to answer my questions. I've seen other survivors battling with other medical aids and I can tell you Discovery Health Medical Scheme is amazing," she says.
A Johannesburg-based events manager, Howie says the Discovery Vitality program motivated her to get back to full health.
She's upped her gym workouts to achieve 900 Vitality Active Rewards points per week, rarely does less than 10 000 steps per day, has lost 17kg and is revelling in a cancer-free life, taking her two Schnauzer dogs for daily 3 km walks.
As an only child she doesn't know what it's like to have brothers and sisters and doesn't miss not having children of her own, though she has two Godchildren whom she adores.
"I've never felt healthier; my mind is clear, and my body is fit and healthy. The Vitality program helps with weekly goal setting. If you follow it with vigour and enthusiasm, it delivers results far beyond expectations. I have an Apple Watch, Series 3, to set goals, track my heart rate and steps and get Vitality Active Reward points. I must admit I've become a bit obsessed," she laughs. "I've cut out all carbs and sugar but occasionally indulge my sweet tooth."
The Discovery Health Medical Scheme is an independent non-profit entity governed by the Medical Schemes Act, and regulated by the Council for Medical Schemes. It is administered by a separate company, Discovery Health (Pty) Ltd, an authorised financial services provider.
Prostate cancer survivor erases stigma of cancer
In 61-year-old Zephania Msimang's community in Katlehong – and many other disadvantaged African settings – cancer means death. So, when his biopsy came back positive for prostate cancer in early 2016, he thought his world had ended.
From two children with cancer, to the COWS
For Kerrin and Grant Bain, losing Jessica (their 20-month-old daughter) to cancer was gut-wrenching. Two years later they heard that their daughter Georgia, had brain cancer. The journey led them to starting The Cows, fundraising for CHOC.