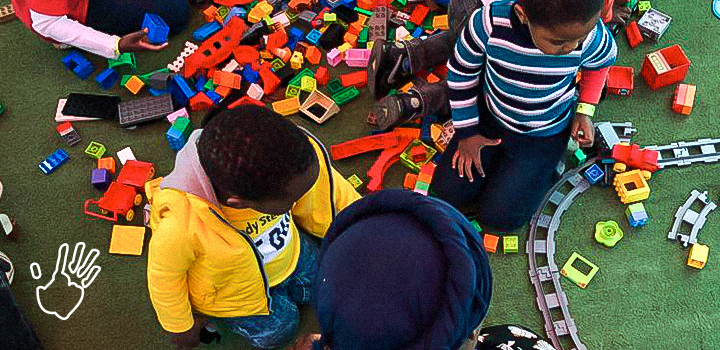 Donate your Vitality reward points to MoveToGive, and help primary school children in Orange Farm access innovative creative play programmes to build their science, technology, engineering, art and maths (S.T.E.A.M) skills.
The world is moving firmly ahead into the next era of work through the fourth industrial revolution. It's an exciting time that's teeming with possibilities for those who are adequately skilled and prepared.
That's why we're so excited to partner with YOU and Play Africa to bring innovative education models closer to the children of Orange Farm – an under-resourced community in the South of Johannesburg.
For the next few weeks, Vitality Active Rewards members have the opportunity to give school children in Orange Farm access to innovative, evidence-based creative play programmes that will change the way they approach science, technology, engineering, art and mathematics (S.T.E.A.M).
Through Vitality MoveToGive, members can donate to a variety of Play Africa interventions that will among other things, help the children learn to code, and become more confident in their problem-solving and creative-thinking skills – preparing them for the future of work.
Ready? Get involved, today!
Get in your weekly exercise, drive well, or bank well with Vitality Active Rewards to get your play on the gameboard. Reveal guaranteed Vitality reward points or diamonds that you can use to donate to this important initiative:
Spend 25 Vitality reward points to donate creative play educational materials to an under-resourced school and surrounding homes in Orange Farm.
With 40 Vitality reward points, you can help a child in Orange Farm build critical numeracy and abstract reasoning skills through Play Africa.
With 100 Vitality reward points, you can help a child in Orange Farm learn coding and engineering skills, so they can thrive in the future of work.
Spend 250 Vitality reward points to help Play Africa train primary school educators in Orange Farm to sustainably teach science, technology, engineering, art and mathematics through cutting-edge creative play methods.
Not on Vitality Active Rewards? Activate it on the Discovery app so you can take part in this important cause.
This Vitality MoveToGive initiative is in partnership with Discovery CSI, who have established a long-term employee programme to support the Orange Farm community.
View the terms and conditions for this campaign here.
No more excuses - Vitality HealthyDining is here
With the new Vitality HealthyDining benefit and Uber Eats, making healthier choices has never been easier. Now you can get up to 25% cash back on healthier meal choices and 50% cash back on Vitality kids' healthy meals when you dine in with Uber Eats.
To get started, activate Vitality HealthyDining on the latest Discovery app by following these four easy steps:
Open the latest Discovery app and click 'Vitality.' Then click 'HealthyDining' and follow the steps until you get your unique code.
Link Uber Eats to Discovery Vitality by adding your unique code to your Uber Eats app. This can be found under the "Promotions" tab in your Uber Eats profile.
Scroll or search for any one of the participating restaurants, which include Col'Cacchio, Doppio Zero, Ocean Basket and Nando's.
Select the Vitality HealthyDining category at the top of the menu to order healthier meal choices and earn cash back.
Find out more about the new Vitality HealthyDining benefit here.
Kabelo Mabalane is taking on the role of 'making running cool'
A refreshingly down-to-earth media personality, a thriving entrepreneur, a devoted family man and an 11-time Comrades runner – it's easy to see why Diamond Vitality member and myrun Brand Ambassador Kabelo Mabalane (42) makes for such a credible role model.
How to sneak more plant foods into every meal
Whatever diet you follow, including less processed plant foods will only make it healthier. Here are practical tips on how to bulk up your regular, everyday meals with plant-based foods.