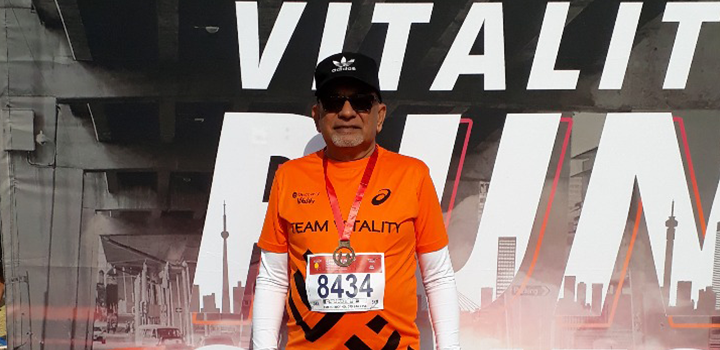 Liyakatally Mohamed, 70, counts his few health issues as minor blips in his otherwise comfortable life journey, which he maintains with Vitality
"My motto is that you can have everything, but if you don't have your health you can't enjoy your life," says Mohamed who resides in Bassonia, south of Johannesburg.
As a semi-retired insurance broker, he understands the statistical benefits of staying fit. He says he is encouraged by the Vitality programme to keep moving. "I completed several years of the Run Series with my colleagues who are about twenty years younger than I am. So, at 70, I am feeling quite well. I have my brokerage to keep myself mentally busy, too," he adds.
But it wasn't always smooth sailing. Apart from a detached retina a couple of years ago and a mild heart attack about 20 years ago followed by prostate cancer, there hasn't been any further major health concerns for him.
Fighting illness with physical activity
A fan of parkruns, he says he has maintained his jogging in the residential estate where he lives while staying at home during the COVID-19 pandemic.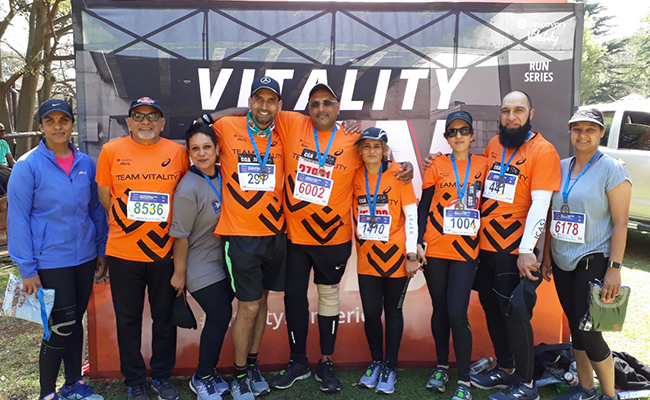 Liyakatally Mohamed with his running team. He is the oldest of his Team Vitality running mates.
"I think fitness definitely helped with these illnesses. I also eat well and make sure I do all my health tests annually. To be honest, I have been in fine health for the past few years," says Mohamed.
He says a recent angiogram shows that his heart condition is stable and the arteries have not deteriorated. "That is an achievement for me, because this is a genetic condition along with high cholesterol levels, which I have managed to avoid."
Using a Fitbit fitness tracker to measure his workouts, Mohamed says he does a walk every day in his residential estate. "I do about 3.5 km a weekday and 5 km on a weekend. It earns me my 900 Vitality points a week," he says.
Apart from airfare discounts, he enjoys discounts on HealthyFood and HealthyCare.
But his advice to Vitality members who are 65 or older, is to take a holistic approach to their health. "Having less stress, a good diet - everything is a contribution towards health. I enjoy pressed juices and water with turmeric (an anti-inflammatory), apart from my two glasses of warm water with lemon that I have in the morning daily. The main thing is keeping up the physical exercise. I have missed the gym (during the COVID-19 pandemic) but as long as I have my health, that's what matters," he says.
Don't just live. Live it up with Vitality 65+. Find out more.
Not a Vitality member? Join today and get rewarded for staying healthy.
Call us on 0860 000 628 or leave your details and we will call you back. You can also log in to activate Vitality yourself.