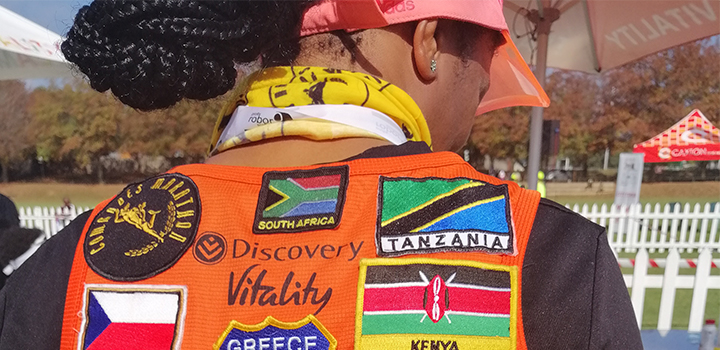 After birthing twins, Morongoa realised she needed to get her fitness back on track. Over the last decade, she's racked up a staggering 57 marathons – and found the perfect way to combine her love of running and travel. Let her inspire you this #WomensMonth!


American journalist Sydney J. Harris once remarked, "Middle Age is that perplexing time of life when we hear two voices calling us, one saying, Why not? and the other, Why bother?!" This is a sentiment that Gold Vitality member Morongoa Morena (42) understands well – but since she decided to tackle her unhealthy habits head-on, she hasn't looked back.
'I looked at the mirror, and hated how I looked'
Morongoa, a Midrand-based policy developer who also owns a travel agency, remembers how she struggled to get her lifestyle back on track after pregnancy. "After the birth of my kids, I was overwhelmed; I wasn't coping well and always felt tired. I was also eating badly and gained weight – reaching 78kg at my heaviest. This went on until one day in 2007 when I looked at the mirror, and hated what I saw and how I felt. I knew I needed to reclaim my health and fitness."
Morongoa decided to start running – her go-to physical activity. It was difficult in the beginning, but the more consistently she ran, the better it became and the more confident she got. Instead of just finding a new (albeit healthier) comfort zone, Morongoa kept challenging herself by signing up for races – starting with 10 km runs in 2008, progressing to ultra-marathons in 2011 and committing to her first Comrades in 2013. The result? A steady climb to a total of 57 marathons and five Comrades races so far!
Morongoa's life goal? To run the world – literally!
By 2014, Morongoa was getting bored, and decided to set her sights further afield: "Running in similar places was becoming unexciting, so I decided to embrace my love for travel and explore new trails. I've run in countries like Tanzania, Seychelles, Ireland, Portugal, Kenya, the Czech Republic and Greece – so my Vitality travel rewards of up to 30% off flights are a big benefit!"
Her goals? To achieve Diamond vitality status (this year); to earn a Comrades marathon green number (five to go); and to run marathons in all seven continents in her Team Vitality kit. This year she'll be participating in the New York Marathon and Berlin Marathon.
Morongoa, who joined Team Vitality just this year, and has found being part of a well-organised and supportive team an absolute treat. She also recently became a member of the Marathon Globetrotters team – a global group of runners who aim to run the world one country at a time – and acknowledges that an ambition like this takes "a lot of time and financial planning." Luckily, she has a partner in both, like when she gets the maximum gym fee saving at her local Virgin Active in Midrand by achieving her Vitality Active Rewards goals!
'I love the state of mind and health I'm in now'
When asked how she stays so determined, Morogona says, "My Vitality rewards motivate me to achieve my fitness and health goals. But I'm also self-motivated because I don't ever want to go back to the lifestyle I lived in the past. I love the state of mind and health I'm in now. I get immense personal fulfilment from the physical and mental challenge of long-distance running, and I love the feeling of being able to inspire others to start being more active. Her top tips?
Have realistic fitness goals and be consistent: "With 24 hours in a day, we all have time – I always try to put in at least 30 minutes of exercise a day."
Find balance in all your lifestyle habits: "I drink a lot of water and I eat healthy most of the time. I'm now working on trying to get enough sleep, which is what I lack at the moment!"
If you're serious about running, learn as much as possible about it: "Understanding the sport helps in becoming a better and more confident runner. Also understand that things like training programmes, food and supplements can sometimes work differently for different people."
Diversify your training: "I trail run, hike, swim and do yoga – these different activities all improve my performance."
Most importantly, Morongoa says, is learning to embrace your individual capabilities: "I compete with no one but myself, and push myself to be the best runner I can be. Above all, I remind myself to keep being grateful for the very ability to run."
Enjoy getting active in a variety of ways with Vitality
Did you know that people of all ages and fitness levels can participate in a Walk, run, cycle, swim, golf, race ... Vitality offers you many ways to get fit. Join a health club, link a fitness device to track your activity, take part in race events and join Team Vitality, our running and cycling club. Like to hit the gym? Save up to 75% on your monthly gym fees, or head outdoor and earn points for walks and runs.
Two decades on Vitality and feeling like a 20-something
Elize Sewell exudes vitality and confidence. Pursuit of adventure has taken her across the globe – and granted her enviable physical fitness as a result. We caught up with her to learn her healthy living secrets – which include cold water swimming!