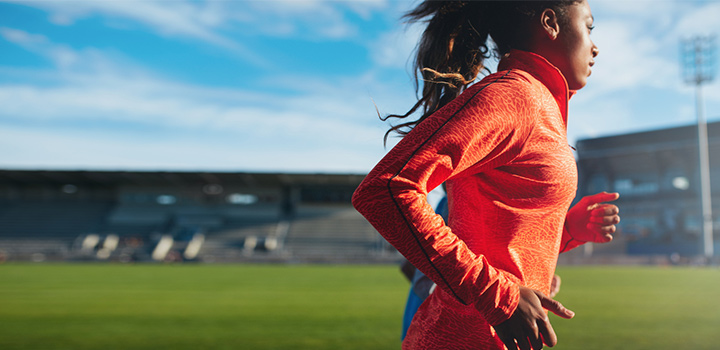 Wish you were #WinningWinter instead of stuck in a rut with your running? Here are some ways to get yourself back up and beating your personal best, plus inspiration and details for your next fun mass-running event.
Feel like you're hitting a wall on your last few runs? It happens to the best of us. If you're having a tough week at work, you may feel too drained to run, or end up having a terrible run. You may be bored of running and feel frustrated with not improving. You may even feel like hanging up your shoes for good. Don't - running does you more good than you know. Instead, try these tips to get yourself out of the running rut.
Swop sides: You know what they say - a change is as good as a holiday. If you're a road runner, hit the trails, and if you're a trail runner, head for the streets. Running trails for road runners can be technically demanding; running roads for trail runners can help you experience a speed you can't achieve on trails.
Team up: Pull in some community support from a friend, family member or local running team. Behavioural research shows that exercising with a peer or loved one doesn't just offer more accountability, but also more satisfaction. You can have different buddies for different training sessions and you'll find the distances melt away. Try pick running partners who are slightly faster than you to help push you a little.
Salsa or soccer? Try cross-training with anything, from swimming to cycling, dancing, tennis or CrossFit. Adding a different physical activity or sport session to your running workout each week can not only improve your strength and fitness for running, but help you to diversify and feel reinvigorated.
Aim for a mark: Training for a fixed goal will help you refocus, so enter an event that's slightly above your current skill level and then work to do your best at that event. Make sure it's far enough in the future so that you can adequately train for it to avoid injuring yourself or burning out. And make the most of your local parkrun to motivate you each Saturday morning.
Any of these strategies, or any combination of them, can help to reinvigorate your love for running. Need ideas on a mark to aim for? How about one (or both!) of these:
#RuleTheRaceTrack with the Discovery 947 Rhythm Run
Discovery and 947 will set the Kyalami Grand Prix Circuit alight this winter at the second Discovery 947 Rhythm Run. Taking place on Saturday 2 June from 17:30, the Rhythm Run is the only race where you can take the Kyalami track on foot, and test your pace over 4.7km or a double lap of 9km.
The fun doesn't end at the finish line as there's an epic afterparty with some of the country's top DJs to take the action into the night and keep everyone warm. They include Euphonik, Kent and the 947 DJs - Vin Deysel, Mac G, Alex Caige, Zweli and Ayanda MVP.
"Our data shows that physical activity takes a back-seat during the colder months because it's less tempting to venture outside when the weather's bracing. So last year we teamed up with 947 to create an event that will help people stay active - and warm - when they are less motivated to exercise. This is how the Discovery 947 Rhythm Run was born," said Discovery's head of experiential marketing, Iona MacLean.
"The event sold out and we saw 7 500 runners of all fitness levels hitting the track and having a blast," added 947 station manager, Ravi Naidoo. "Running has never been so much fun and we can't wait to do it all again in June!" Entries are available from www.947run.co.za and cost R250, which includes the orange long sleeve running top.
#FindYourPace at the Discovery East Coast Radio Big Walk
The Discovery East Coast Radio Big Walk, which takes place on Sunday 21 May, is the biggest outdoor, participative event in KwaZulu-Natal. There are three walking routes (5km, 10km, and 20km) to choose from and walkers will start at uShaka Marine World and make their way through Durban's scenic promenade en route to the finish line at People's Park, Moses Mabhida.
"We're delighted to be hosting the Discovery East Coast Radio Big Walk for the 9th time," says Dinesh Govender, Chief Marketing Officer at Discovery. "Durban is widely regarded as one of SA's most active cities, so we are excited to be introducing a 5km run to the event for the first time to encourage participants to push themselves a little further." If you're a beginner, here are tips to conquer your first 5km.
There's something for everyone, including meeting East Coast Radio presenters along the route entertainment for the kids and plenty of opportunities to take #HealthySelfies, making the event a firm favourite on the KwaZulu-Natal social and sporting calendar.
Entries are now open: find more details and register online at www.durbanbigwalk.co.za. Don't delay as only the first 30 000 entries will be accepted.
Commit to #WinningWinter by signing up today!
Run your way to new running shoes with Vitality Active Rewards Shoe Booster
Earn up to 100% cash back on a pair of running shoes with Vitality Active Rewards Shoe Booster and your preferred HealthyGear partner, Sportsmans Warehouse or Totalsports.