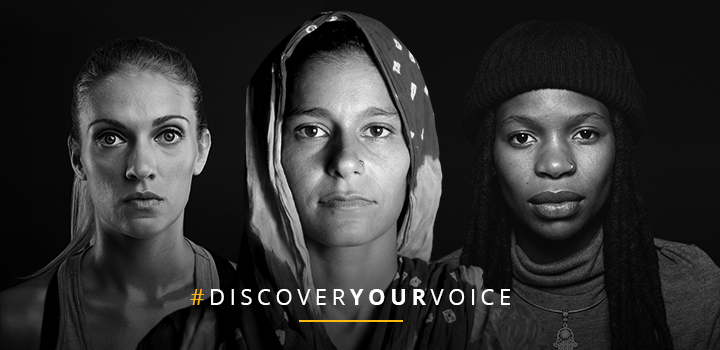 Violent crime has increased since nationwide COVID-19 alert level 3 took effect on 1 June. Cases of abuse of women and children have also increased dramatically. How is the #DiscoverYourVoice initiative bringing support to medical scheme members who experience gender-based violence and other traumatic crime?
Discovery has put together a three-part podcast series covering everything we need to know about understanding and responding to Gender-based violence.
Listen to Miss South Africa 2019, Sasha-Lee-Olivier, share her experience of surviving sexual abuse with Azania Mosaka in our podcast on gender-based violence. #DiscoverYourVoice
Also listen to Azania's interview with Mara Glennie, who started the TEARS Foundation to provide a support network for survivors of rape and abuse, underpinned by technology that is available to us all. And, Azania chats to Service Executive at Discovery Health, Raffaella Ruttell to find out about Discovery's #DiscoverYourVoice, giving Discovery Health Medical Scheme members who experience GBV access immediate and confidential trauma support and scheme benefits.
Then, listen to Azania chat to attorney Lindsay Henson (from Lawyers against Abuse) and Trauma Counsellor Lana Snoyman to explore the rights available to survivors of GBV, the support needed to overcome the trauma they endure, to explore the legal remedies available to survivors of GBV and the role that the justice system has to play in turning the tide on this form of crime. #DiscoverYourVoice
This podcast is one of many podcasts in the "Discover Healthier" podcast series. (If you want to see this podcast interview on the podcast page, go to the Discover Healthier series and scroll down to Episode 10,. The podcast series is also available on popular podcast players like Spotify and others). Start listening now:
Once again, in recent weeks, the prevalence of gender-based violence (GBV) in South Africa has ignited outrage among citizens. Human rights and research groups have called for swift and decisive action, and leadership to stop all violence against women – and also against children.
South Africa has one of the world's highest GBV rates in the world. According to a 2018 report by StatsSA, our femicide rate (the murder of women on the basis of their gender) is five times higher than the global average.
Globally, the World Bank calls GBV a pandemic in which 1 in 3 women have experienced physical or sexual violence or both. They also highlight that a staggering 38% of murders of women are committed by an intimate partner.
President Cyril Ramaphosa's 17 June 2020 address on South Africa's response to the COVID-19 pandemic, drove the message home: "It is with the heaviest of hearts that I stand before the women and girls of South Africa this evening to talk about another pandemic that is raging in our country – the killing of women and children by the men of our country. At a time when the pandemic has left us all feeling vulnerable and uncertain, violence is being unleashed on women and children with a brutality that defies comprehension. These rapists and killers walk among us. They are in our communities. They are our fathers, our brothers, our sons and our friends; violent men with utterly no regard for the sanctity of human life. Over the past few weeks no fewer than 21 women and children have been murdered. Their killers thought they could silence them."
President Ramaphosa also said: "According to the police, violent crime – especially murders and attempted murders – has increased since alert level 3 took effect on 1 June. Cases of abuse of women and children have also increased dramatically. We need to ask some very difficult questions of ourselves as a society."
The Solidarity Fund, established by President Cyril Ramaphosa in March in response to the COVID-19 pandemic in South Africa, has put R17 million towards initiatives that support victims of GBV as part of efforts to bring relief to those affected by the COVID-19 pandemic.
#DiscoverYourVoice today with 24/7 emergency services, trauma support line and additional benefits
"To turn the tide on the violence that we see take place in our society against women and children, we all need to play our part," says Discovery Group Chief Executive Officer Adrian Gore. "We must self-reflect on what we can do differently to create a culture that is safe and dignified for all people. This may be in the way we raise our children, in our contribution to our community, or simply in being clear on what is acceptable dialogue and behaviour amongst our friends and peers – and actively calling out behaviour that contradicts this."
Discovery is heavily invested in creating an environment in which the health and prosperity of all South Africans is nurtured. Discovery's core purpose – to make people healthier and enhance and protect their lives – has resulted in the #DiscoverYourVoice initiative. "No one should ever suffer in silence," adds Gore.
#DiscoverYourVoice encourages those who experience GBV to reach out for help and to access immediate and confidential trauma support and scheme benefits, linked to Discovery's Emergency Services and Trauma Support benefit. Most importantly, this programme features dedicated channels to support a person through trauma associated with GBV.
Support is confidential and comes at no cost to the individual seeking help. Access the service by calling 0860 999 911 (the Discovery 911 Emergency Line operated by Netcare 911), 24 hours a day, seven days a week. (Press 5 for trauma related to GBV to reach our dedicated line and support.)
People who use the service connect directly with a dedicated high-touch specialist who will take the individual through a high-touch journey, offering direction towards:
Guidance and advice on appropriate consultations with various healthcare professionals
Emergency support that may be needed (i.e. hospitalisation or medical treatment)
Counselling support sessions.
Practical advice, i.e. places of safety or how to get a protection order
Who has access to this benefit?
The Emergency Services and Trauma Support benefit offers comprehensive assistance for those who have been through a traumatic event and is available to all members of Discovery Health Medical Scheme. Members can also access additional Scheme benefits, as required by each individual's unique circumstances, and these are unlocked as the member proceeds through the dedicated high-touch journey.
Discovery supports Dr Mnyanda's pivotal work to better understand and support victims of sexual violence
Every year Discovery honours various professionals in the medical field through support made available by the Discovery Foundation. In 2019, Dr Yandiswa Mnyanda – Chief Medical Officer in the Accident and Emergency Department at Cecilia Makiwane Hospital (near East London) – was chosen to receive a Discovery Foundation "Rural Individual Fellowship Award". This, for her work in providing quality care to individuals affected by GBV – in particular, survivors of sexual violence.
Dr Mnyanda has helped set up the Thuthuzela Care Centre at the hospital for sexual-assault survivors. She also developed a study to identify all the reasons why survivors tend to be late in reporting an incident or in seeking medical care. With the support she has received through her Discovery Rural Individual Fellowship award, she is actively studying more than 1 300 survivor files, so that targeted awareness initiatives can be developed to help to encourage necessary interventions much earlier.
We all have a part to play in protecting South Africa's most vulnerable people
"Paying lip service to the ideal of a safe and trusting society is not enough. The global COVID-19 pandemic has brought unprecedented challenges to South Africa on every level. At this critical time in South Africa's history country, we will be judged by our choices and by our behaviours, and not by our words. This is the essence of integrity – and we cannot accept anything less," he adds.
The Discovery Health Medical Scheme is an independent non-profit entity governed by the Medical Schemes Act, and regulated by the Council for Medical Schemes. It is administered by a separate company, Discovery Health (Pty) Ltd, an authorised financial services provider.