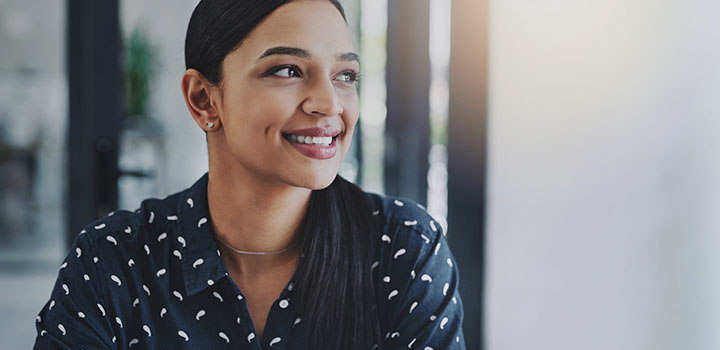 This Human Rights Day, we sat down with Zimkhitha Saungweme to learn more about how human rights impact our work environment.
"Organisations have much to gain from caring about and upholding human rights," says Zimkhitha Saungweme, Head of Discovery Health People. "But they have even more to lose if they don't. Learning how these rights apply in the workplace and having an organisational culture that promotes Human Rights is essential to your company's growth, performance and reputation."
Q: What roles do human rights play in the workplace?
A: Dignity, respect and fairness are at the centre of all human rights. A sincere attempt at being fair and respectful, irrespective of the message that's being conveyed, is critical to upholding human rights.
For example, we're sometimes required to have difficult conversations, such as needing to address misconduct or a lack of delivery. In these discussions, people need clear and firm understanding of the company's stance on that issue, but at the same time, they need to feel they were treated with respect in the discussion. Irrespective of the discussion, I hold myself accountable for making sure that the other person does not leave the discussion feeling disrespected.
Q: Which rights are particularly relevant in today's place of work?
A: We all have a right not to be discriminated against, in that employers may not discriminate based on age, race, gender, religion, sexual orientation, disability, and so on. At Discovery, there is a strong focus on inclusion, which ensures not just a more creative, diversified workforce, but also cultivates a culture where all our people feel a strong sense of belonging.
Then there's freedom of speech, where companies need to ensure their employees can voice feedback and opinions without fear of victimisation. This is critical. All employees have a responsibility to be an active part of conversations in the workplace. Leaders must continuously check if their environments foster openness and if not, they need to take corrective measures.
I'm also particularly passionate about the right to a healthy work environment. This entails creating a space that allows people to work at their best. Workplace ergonomics need to form part of office designs. This should be supported by a strong focus on employee wellbeing, with employees having access to physical and emotional wellbeing services and support.
Q: What role do leaders have in upholding human rights in the workplace?
A: Firstly, leaders managers need to be aware of human rights in the workplace, and then they need to create awareness in their teams. Many companies have invested time to develop policies that promote and enforce human rights. At Discovery, for example, these include sexual harassment and HIV policies.
Companies that are committed to protecting employees' rights must actively manage the consistent application of these policies. Leaders have a responsibility to create an environment where human rights are respected and protected. If rights are being infringed, leaders need to take the necessary action to address the infringements.
Q: How do companies benefit by getting this right?
A: When employees feel that their rights matter and are upheld, they develop trust in the company. This in turn increases sentiment and productivity, resulting in increased ability to retain their existing talent and to attract great talent through word of mouth.
Q: What does Human Rights Day mean to you, personally?
A: For me, Human Rights Day is a reminder of the sacrifices that were made and the lives that were lost in getting us to a point in history where we enjoy basic human rights. I take the time to appreciate the freedom that I enjoy in South Africa and at work. I remind myself about the responsibilities that come with all human rights, and I reflect on whether I am doing enough, as a citizen and as a leader, to uphold the rights of others.