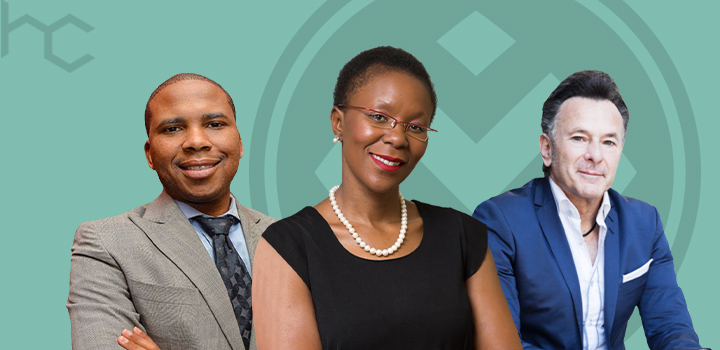 What does it take to build a business and see it flourish? Bame Pule, Polo Leteka and Clive Butkow are 'The Investors' who have all done it themselves and enjoyed the fruits of their success. Now, they're keen to share their learnings and insights with us at our next Inspire Session in Johannesburg this February.
Do you have a burning business idea? Do you have a plan to raise the necessary funds you'll need to see it fly? What does it really take to make a new business idea investable?
On the back of an entrepreneur-learning survey conducted last year, our 'inspiration partners', Heavy Chef identified a need among the country's entrepreneurs, to learn more about business funding and investment.
What better way to learn than from those who've done it all themselves, building successful businesses, brick-by-brick (so to speak)? We've lined up some of the country's most impressive business leaders in the investment and funding arena to share with us valuable insights into what it really takes to build businesses that grow from strength to strength.
Join us, as we, Discovery Business Insurance and Heavy Chef, host a fascinating evening in the company of Bame Pule, Polo Leteka and Clive Butkow on 18 February 2020 at the Discovery Head Office in Sandton, Johannesburg.
Meet The Investors
Bame Pule is the founder of Africa Lighthouse Capital, an independent investment firm with a multi-faceted approach. Since its beginnings in 2012, Bame and his growing team have established ways to not only provide financial backing to other business organisations, but also nurture them and see them flourish. With financial, human and intellectual capital investment, the aim of his business is to help investee companies expand into other key African markets.
Bame has invested a wealth of experience, expertise and networking knowledge into his business, which he has learned since the start of his career in 1998. In 2002, Bame steered his career into private equity and began making and managing investments, as well as building top-level relationships as he kept up to speed with the evolving business environment. Bame has travelled quite extensively along the way and has worked in the United States, Botswana, Kenya, Nigeria, and since 2006, South Africa. With the knowledge, expertise and experience he has accumulated along the way, Bame will be sharing highly valuable insights about the field he knows best, private equity investments.
Polo Leteka is the founder of IDF Capital, an entrepreneurial financier and advisory firm. As the Executive Director, Polo brings to the table a substantial amount of experience and expertise as a private equity investor and accomplished entrepreneur. Polo's passion is to see women-owned SMEs flourish in the South African market, and since 2015, she has focused on channelling investments into such organisations. During the same year, she co-founded Alitheia IDF Managers for this very purpose.
Her interests and passions have seen her move into other areas where her experience and expertise can be shared with others too. Polo is the co-Author of the book, "And For All These Reasons … I'm In", as well as a been part of the South African version of the television show, Dragons Den. As an accomplished entrepreneur in the investment industry, Polo will be joining our panel to share with us the best ways any entrepreneur with a dream can achieve successful growth too.
Clive Butkow is the Founder of Kalon Venture Partners, a registered venture capital company. Clive has extensive experience being a leader and has fulfilled roles including the Chief Operating Officer (COO) and Managing Director of Accenture South Africa. Clive accumulated valuable management consulting experience over a 28-year period before accepting a partnership promotion in 1997. From there, he led the business of sales in Accenture's Resources and Technology business divisions, helping to establish the organisation within the global market.
Now, as the CEO of his own organisation, Clive has established one of the country's first Disruptive Technology Venture Capital Fund businesses under the Section 12J income tax act. Clive is also a board member and chairman of several Venture Capital investee companies. An accomplished businessman and entrepreneur, Clive has studied hundreds of organisations, both entrepreneurial and corporate, as well as rubbed shoulders with some of the world's most successful entrepreneurs and business coaches. He has a substantial amount of experience and insights to share that will surely leave you feeling inspired yourself.
Book now to learn from The Investors
Date: 18 February 2020, Tuesday
Time: 18:00 (for 18:30) to 20:30
Place: Discovery Head Office, 1 Discovery Place Sandton, GP, 2196, South Africa
Upon arrival, you will be offered a choice of complimentary beverage while mingling with other attendees of this event. You can choose to have a glass of wine, smoothie, juice, cup of coffee or glass of ice-cold sparkling water.
Heavychef CEO, Fred Roed will be the MC for the evening. Tickets are limited and will be processed securely through Quicket.
Book your tickets now for this not-to-be-missed event here.
About 'Inspire' sessions
We've lined up some of the country's most loved and respected innovators and disruptors to these evening experiences. A limited number of tickets are available for audiences to see our panel of technologists, leaders and creatives live and in action. For more information on our remaining sessions, visit Heavy Chef here.
About business insurance from Discovery
We understand that different businesses have different needs. That's why we give you comprehensive, yet flexible, insurance cover that is tailored to your business and considers the business risks you face in a modern, fast-paced world. You'll get business insurance that is driven by technology and built on a model that shares value for managing your business well. Through our partnership with Endeavor South Africa you'll have access to a diagnostic tool that will help you identify key areas of development so that you can grow your business. In addition, you will get access to service providers, at a preferential rate, who can help your business develop in the right direction. To find out more, speak to your broker or contact us and we will help you.
'Inspire' events: Learning from 'The Educators' in Cape Town
The third installment of the Discovery Business Insurance and Heavy Chef 'Inspire' series for entrepreneurs saw a panel of educators share a wealth of experience and knowledge to a sell-out crowd. Enlightening the audience were former President, Thabo Mbeki, Sam Paddock and Rapelang Rabana.
'Inspire' a new series of events for entrepreneurs
Heavy Chef and Discovery have come together to create a new series of events and learning experiences to inspire entrepreneurs and business owners. Kicking off 'Inspire' in August 2019, are Adrian Gore and Barry Swartzberg.