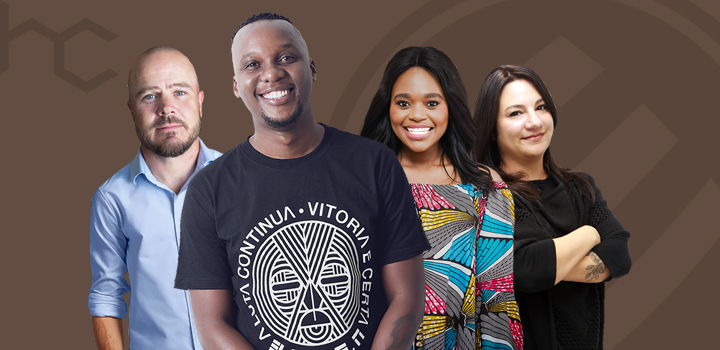 The last installment for this month's 'Inspire' sessions, in partnership with Discovery Business Insurance and Heavy Chef is all set to be an insightful discussion around influencer marketing. Join our panel of influencers in Cape Town on 26 September 2019.
How to influence people in the most effective ways is an art, and one that can have a powerful effect for businesses. This session's panel of established and respected media personalities are gearing up to share how the right kind of influence messaging strategies can be used to attain, wield and grow business practices in positive ways.
Meet The Instructors of Influence
Craig Rodney, one of South Africa's most-loved Instagrammers knows a thing or two about how to really maximize a brand on the platform. He'll be sharing his extensive knowledge and experience around making the most of social media platforms as an influencing tool.
Mo Flava, another influential radio show host for Metro FM, is all set to share his insights on how businesses and personalities have the power to shape audiences.
Pearl Shongwe is a television presenter, newsreader and voice artist who is quickly making a name for herself too. She'll be sharing how to really connect with audiences, using influence for positive outcomes.
Gill Strawberry (aka Gill Attwood), the Director of Gillstrawberry PTY (Ltd), defines herself as a 'free-range designer, media broker, photographer and concept explorer', among other things, and will be adding her voice to offer insight into how the kinds of tactics used have an influence on the effectiveness of a strategy.
Book now to meet The Influencers
Date: 26 September 2019, Thursday
Time: 18:00 to 20:30
Place: Workshop 17, 17 Dock Road, V&A Waterfront, Cape Town
Tickets are limited.
Join CEO of Heavy Chef, Fred Roed as he hosts four of South Africa's most authoritative influencers in one room for a not-to-be-missed session of inspiration.
About 'Inspire' sessions
During our Discovery Business Insurance and Heavy Chef 'Inspire' series for entrepreneurs, we have lined up some of the country's most loved and respected innovators and disruptors for several exclusive evening learning and networking sessions.
Audiences absorb a wealth of inspiration and insights from various technologists, leaders and creatives who lead panel discussions about what it takes to be a champion in competitive sport, building a firm foundation in education for the future, various learnings from a changing media landscape in the digital age, and more.
Watch this space for more 'Inspire' sessions in the near future.
About business insurance from Discovery
We understand that different businesses have different needs. That's why we give you comprehensive, yet flexible, insurance cover that is tailored to your business and considers the business risks you face in a modern, fast-paced world. You'll get business insurance that is driven by technology and built on a model that shares value for managing your business well. Through our partnership with Endeavor South Africa you'll have access to a diagnostic tool that will help you identify key areas of development so that you can grow your business. In addition, you will get access to service providers, at a preferential rate, who can help your business develop in the right direction. To find out more, speak to your broker or contact us and we will help you.
'Inspire' events: Making a success of media minefields
'Inspire' sessions, in partnership with Discovery Business Insurance and Heavy Chef are hosting the fourth installment of the series on 19 September 2019. Join the 'Media Mavens', Elizabeth Lee Ming, Richard Poplak and Gareth Cliff for an insightful evening.
'Inspire' events: Learning from 'The Educators' in Cape Town
The third installment of the Discovery Business Insurance and Heavy Chef 'Inspire' series for entrepreneurs saw a panel of educators share a wealth of experience and knowledge to a sell-out crowd. Enlightening the audience were former President, Thabo Mbeki, Sam Paddock and Rapelang Rabana.
'Inspire' a new series of events for entrepreneurs
Heavy Chef and Discovery have come together to create a new series of events and learning experiences to inspire entrepreneurs and business owners. Kicking off 'Inspire' in August 2019, are Adrian Gore and Barry Swartzberg.