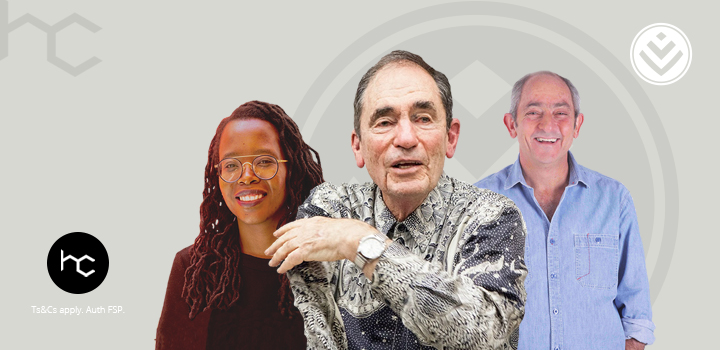 'Inspire' sessions are hosting the next installment of the series on 29 October 2019. Join 'The Unifiers', Lwando Xaso, Albie Sachs and Robbie Brozin for a fascinating evening discussing what it takes to be one of the best leaders in business.
For our next 'Inspire' session, three generations of leadership will be joining us on one stage at the iconic Constitution Hill to share all they have learned about leadership in the business space.
Each of our guests believe that by utilising great leadership skills, businesses are capable of creating the kind of positive change that can truly make a difference.
Lwando Xaso, Albie Sachs and Robbie Brozin are true professionals with a passion for what they do. With extensive experience and a wealth of knowledge to share, our guests for this session are all well versed in what it takes to be the kind of leader that contributes something positive to the people of this country – and in a unified way.
Meet The Unifiers
Lwando Xaso is an acclaimed lawyer and leadership expert. She is considered one of the country's brightest legal minds, with a keen interest in the interaction between genders, ethnicity, history and popular culture.
Albie Sachs is an anti-Apartheid activist and former Constitutional Court of South Africa judge. Albie has endured much during his time as an activist, standing firm for the greater good of all South Africans. He will share with us many things he has learnt during the time he tirelessly worked to help heal a divided nation.
Robbie Brozin is the Co-Founder of Nandos and has been a driving force behind generating positive purpose within the brand since it began. This has contributed greatly to the success of the brand – one that is well-known and loved throughout the African continent.
Book now to meet The Unifiers
Date: 29 October 2019, Tuesday
Time: 18:00 for (18:30) to 20:30
Place: Constitution Hill, 11 Kotze Street Johannesburg
Upon arrival, you will be offered a choice of complimentary beverage while mingling with other attendees of this event. You can choose to have a glass of wine, smoothie, juice, cup of coffee or glass of ice-cold sparkling water.
Heavychef CEO, Fred Roed will be the MC for the evening. Tickets are limited and will be processed securely through Quicket.
Book your tickets now for the not-to-be-missed event here.
About 'Inspire' sessions
We've lined up some of the country's most loved and respected innovators and disruptors to these evening Inspire sessions. A limited number of tickets are available for audiences to see our panel of technologists, leaders and creatives live and in action. For more information on our remaining sessions, visit Heavy Chef here.
About business insurance from Discovery
We understand that different businesses have different needs. That's why we give you comprehensive, yet flexible, insurance cover that is tailored to your business and considers the business risks you face in a modern, fast-paced world. You'll get business insurance that is driven by technology and built on a model that shares value for managing your business well. Through our partnership with Endeavor South Africa you'll have access to a diagnostic tool that will help you identify key areas of development so that you can grow your business. In addition, you will get access to service providers, at a preferential rate, who can help your business develop in the right direction. To find out more, speak to your broker or contact us and we will help you.

'Inspire' events: Making a success of media minefields
'Inspire' sessions, in partnership with Discovery Business Insurance and Heavy Chef are hosting the fourth installment of the series on 19 September 2019. Join the 'Media Mavens', Elizabeth Lee Ming, Richard Poplak and Gareth Cliff for an insightful evening.

'Inspire' events: Learning from 'The Educators' in Cape Town
The third installment of the Discovery Business Insurance and Heavy Chef 'Inspire' series for entrepreneurs saw a panel of educators share a wealth of experience and knowledge to a sell-out crowd. Enlightening the audience were former President, Thabo Mbeki, Sam Paddock and Rapelang Rabana.