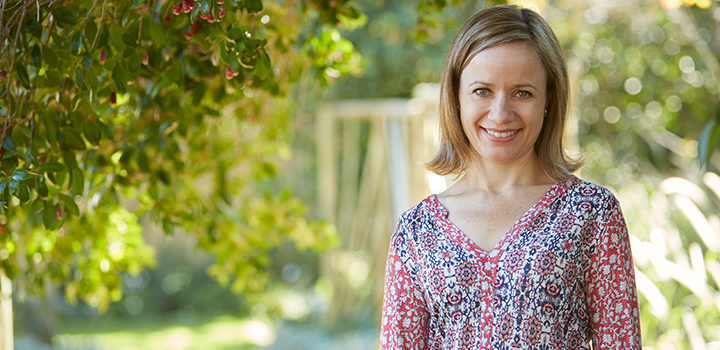 Counselling Psychologist and breast cancer survivor, Norma Moller shares her insight into the emotional support that can energize a cancer journey and the way in which her illness brought many gifts to her life.
Listen to our podcast on emotional support for people affected by cancer - a fascinating discussion between Norma Moller and Sister Nonhlanhla Duba (CANSA's Clinical Health Specialist) here.
Rumi said, "My soul and yours are the same, you appear in me, I in you, we hide in each other". I am often reminded of this when I meet and work with others who also know cancer. My experience helps me to help others, and they again teach me so much.
There are many thoughts and themes that arise in counselling others who have cancer. I share the following in the hope that those who read this, will find it somehow beneficial in their own cancer journeys. These are notes from my experience, about things I now realize I share with many others who have or have had cancer, because I see them in people I counsel.
Cancer leaves an indelible footprint on one's life
A bitter, beautiful footprint. Probably always bitter initially. Beautiful later when the pain becomes a cure. I see this in myself, and I see it in others.
I love the adage "What if everything you are going through is preparing you for what you asked for?". I honestly believe my own cancer has been - and still is - a teacher. Initially I imagined that my cancer would bring an end to many things, including my work. Truth is, the wisdom I have gained has made me better-equipped to help others. And I know of so many other cancer survivors who will witness to the fact that cancer has made them stronger.
Cancer is humbling
The moment of diagnosis is a stop-you-in-your-tracks-moment like none other. Haughtiness and invincibility squashed in a moment. Vulnerability and ephemerality walk through the door. This was my experience. And this is what I see in people I counsel – those who themselves have cancer, and sometimes even more so in those who are near to those who are diagnosed with cancer. You need to know that though at first it seems so impossible, you will know your cancer can be your teacher.
Shortly after I was stopped in my tracks by my 2010 breast cancer diagnosis I felt such disbelief. This could not be about me! And fear! Fear that I would die far sooner than I wanted to. Fear because I then knew I did not really have a choice in when I might die. And this I see in others too – how cancer comes and teaches us that we are not invincible and hardly as in control as we would like to think. I hope that you will know that it is OK to feel this fear, and normal to be afraid. And that you are not alone because every person feels what you are feeling when they hear they have cancer.
In reflecting on my treatment journey, I feel so grateful to the doctor who took control and told me what was best for me. Some may say get a second opinion. I was in too much of a spin to be so rational about things. I know now that I trusted him because I chose him before my diagnosis, intuitively I believe, when I had thought this was all about getting an annual check-up with an "all's well" prognosis. Which wasn't to be.
When the doctor said we will operate in 10 days' time I followed his lead. And when he prescribed the treatment regime I complied. Find a doctor that you trust. You can walk away from a doctor who treats you like just another statistic. Trust your inner voice, your gut feeling when it comes to what is best for you. Believing in your treatment may be a significant part of your healing.
My treatment after my lumpectomy (literally the removal of the lump, as opposed to a mastectomy) was a journey with many detours and delays. What I thought would be exact and scheduled became a test of my patience.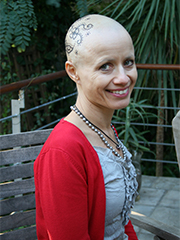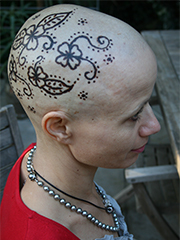 Counselling Psychologist Norma Moller chose to celebrate her beauty, during chemotherapy, with a henna tattoo on her head.
My wish for you
My wish: that you will know that there is very little you can do about the unpredictable reactions of your body to chemotherapy. Let your body lead you according to its own rhythm. Prescribed 21-day treatment cycles are likely to become 30-day cycles. You will discover that you do not have control over great big radiation machines that simply break-down and put your life on hold. Just flow with it. Relax. Breathe. It will be OK.
Many of us experience so much caring, gifting and support during treatment. It is OK to let people carry you. Often this is challenging because cancer challenges you to be vulnerable. And most people confuse vulnerability with weakness. It is a huge achievement to learn to let others take care of you.
There are so many who have gone ahead of you and so many others are sharing your experience right now. Talk to someone who has walked this road and hear the amazing stories of victory. Let the good stories strengthen you. Don't google too much – the bad stories do not have to be your story.
Cancer awoke in me both a survivor and a victim. I do not recall a specific moment when it happened, but I do know in hindsight that my survivor energy won over my victim energy. Cancer did not make me sick. Chemo made me sick. We need to remember this, because we can all get through chemo, it is fleeting. Don't let it get you down. There is healing in fighting. When you despair (we all do) go to sleep. Ask someone to bring you food. Remember that this will pass.
The chemo is likely to make your hair fall out. The worst part of this, is anticipating what it will be like. I couldn't imagine being bald! The moment of reality was, however, liberating! This was such a pleasant surprise! Losing your hair is not as bad as you think. It can even be an opportunity to reinvent yourself, change your style, get a henna tattoo on your bald head (something I would never have done if my hair had not fallen out).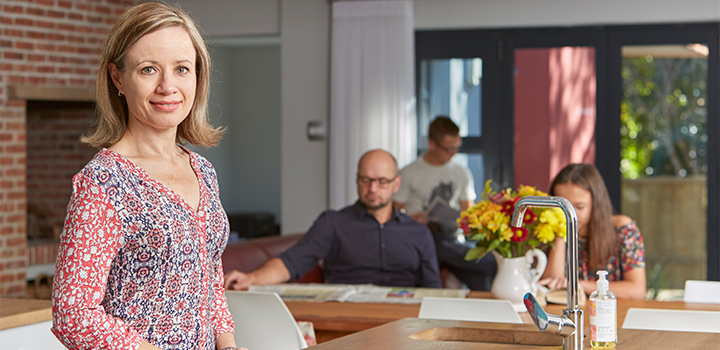 Counselling Psychologist Norma Moller has survived breast cancer and been in remission for seven years.
I am, in 2018, in remission. I have been for 7 years. In numerology they say the number 7 is the seeker, the thinker, the search for truth. I can relate to this. For the past 6 years I have lived my life with some thought as to what I should be doing now that I have survived cancer - shouldn't there be some epiphany? Where was the bright light to show me what to do with my cancer story? Was there some way in which it should manifest in my work? Did I have some or other calling?
This did not happen. Not in such a major way. I concluded that what I needed to do was simply get on with my life. Hopefully/mostly with gratitude. And then in year 7 various unexpected opportunities arose to share my story, which I took. And I saw that others were/are touched by it. And so, I have been compelled to think about and revisit my cancer experience of late. I have simultaneously stopped all oral treatment in this past year (as per the treatment protocol). And I am about to turn 50!
And these things combine to create for me the chance to stop and think, which is always a good thing! You need to know that your cancer will teach you the stuff you need to know in your perfect time. Not in the manner that the person next to you will be taught. But in the manner that your soul will need.
As I write these words I am again a little bit afraid. Uneasy. Something feels different. Perhaps just hormonal. I don't know. And so, I need to decide what to do: go for a check-up (6 months earlier than my annual 1st of Sept (Spring!) date with myself and that cool doctor) or wait and see. I am holding the space for now. Not sure yet what I will do. But reminded again that I am not immortal. Maybe I have been forgetting that of late. We need to know that as cancer survivors we walk a real path. Doubt will come along occasionally. This is OK. You will cross paths with others whose cancer has returned. Let this be humbling. Let your empathy comfort them. But remember that your story is not necessarily their story.
There is so much strength in your story. Tell it so that others can be inspired, know that each time you tell it, you will be inspired yourself!
The Discovery Health Medical Scheme is an independent non-profit entity governed by the Medical Schemes Act, and regulated by the Council for Medical Schemes. It is administered by a separate company, Discovery Health (Pty) Ltd, an authorised financial services provider.
Cancer diagnosis? Make a plan and take control!
Linda Greeff, an oncology social worker and cancer survivor herself, believes that a patient's long-term survival is most impacted by the first treatment intervention. She shares her insight from her own experience with being diagnosed with ovarian cancer.
When a loved one is diagnosed with cancer your first reaction is to do whatever you can to help. What you need to is to find a balance between feelings of helplessness and your desire to help.