parkrun SA's sisters are doing it for themselves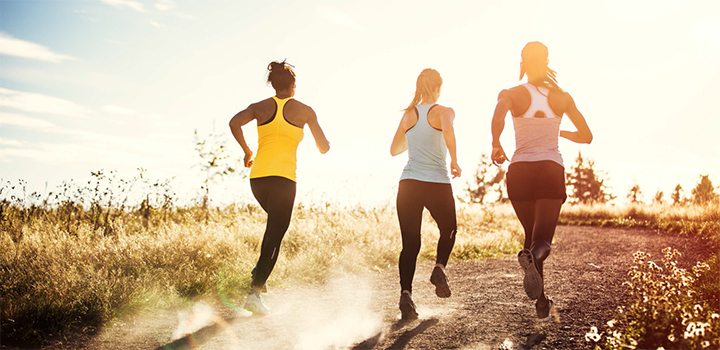 If you're one of the 17 000 South African women who wake up every Saturday morning to run (or volunteer) at one of many glorious 5km parkrun events, Discovery Vitality salutes you. And, what better time than August, Women's Month, to celebrate the woman behind parkrun SA - Gill Fordyce.
Every weekend, across the planet, whether at a local park, on a beach, a promenade or other accessible venue out in nature, runners and walkers line up for a distance that almost anyone can complete - the beautiful 5km run. It costs them nothing but the determination to reach their personal best and enjoy the freedom of running and walking in a safe place with kindred spirits.
From Soweto to the Cape Winelands, parkrun South Africa has brought runners together in every province, every weekend, for the past five years. The average time taken to complete the 5km distance parkrun is 40:16 but the women's record, held by South African Jenna Challenor, is a lighting fast 16:35.
Gill Fordyce has spearheaded parkrun in South Africa since its launch in 2012. She has also been there to support her husband Team Vitality Ambassador and South African marathon and ultra-marathon legend, Bruce Fordyce through an incomparable running career. "Parkrun founder Paul Sinton Hewitt invited me and Bruce to participate in a parkrun in the UK in 2011," recalls Gill. "We immediately saw the magic and started parkrun in South Africa a few months later." Gill has completed a staggering 234 parkruns - amongst the highest number of parkruns completed by any woman in South Africa.
"Parkrun has changed my life so spectacularly that I sometimes have to pinch myself to check that it's not all a dream," adds Gill. "Parkrun has taught me to love running - something I never would have believed possible. I am very proud of my PB (personal best time for 5 km) of 26:48 but, more importantly, I am overwhelmed by the love and appreciation that other women give to me for bringing parkrun to them."
In South Africa, most parkruns start at 8am, with some a little earlier at 7am to avoid the heat. They currently take place at a staggering 110 locations with roughly 35 000 participants every Saturday. Every week between 3 000 and 5 000 South Africans join parkrun.
"As a mother, I am filled with pride and joy at watching our "5-year-old toddler" (parkrun is 5 years old) grow from strength to strength," adds Gill. "I can only look forward to the contribution that parkrun will make to the women of South Africa going forward."
The facts: women and parkrun
The average time taken to complete the 5km distance parkrun is 40:16 but the women's record, held by South African Jenna Challenor, is a lighting fast 16:35.
There are over 650 000 registered parkrun members in South Africa. Over half of these - approximately 400 000 registrants - are women.
Almost 17 000 women get active outdoors at a parkrun every Saturday morning
Thank you to the 9 361 female volunteers whose hard work ensures the smooth running of South Africa's weekly parkruns!
Link your parkrun profile and earn Vitality points
Make sure that you have successfully linked your parkrun profile with your Discovery Vitality profile so that you don?t miss out on earning fitness points.

Remember: You'll earn your Vitality points if you register, link your parkrun profile with Discovery Vitality and scan your unique barcode at the finish line after every run. Vitality points will take up to four days to reflect on your Vitality Points Monitor and your Discovery app.

If you haven't yet, link your profile now!
Pushing limits and shedding pounds: How Dumi found a sport she loves
Spring brings a scurry of activity as the earth bursts into life. Use this season to fall in love with a fitness activity that keeps you coming back for more. Dumisile Mthalane did just that. By finding a sport where she can soak up the sunshine, she's transformed the way she looks, thinks and feels.
5 excuses not to exercise (but are they good enough?!)
We can all think of a reason why we just can?t fit a workout in today. But understanding how we justify it can help to break down barriers to exercise. Here we list some common excuses for avoiding exercise, and tips to get you going.
Wayde van Niekerk sprinted to a world first and new SA record of 19.84 seconds in the 200m half-lap in Jamaica. We celebrate his extraordinary 19-second (or so) achievement with 19 key insights shared during our most recent interview with him.