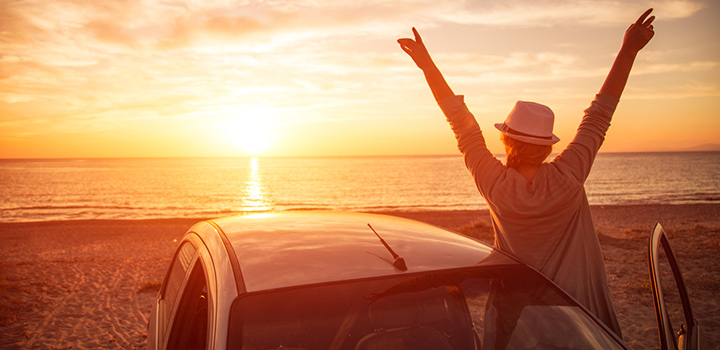 It's almost the December holidays and for many eager South Africans, that means beach time! If you find Camp's Bay and Ballito a little crowded for your liking, check your car is in shape and then road-trip your way to these lesser-known gems.
The year-end holidays are the perfect time to hop into your car and head down to sand, sky and sea. Here are some ideas of what to check before you get started, and where to go from there.
Is your car ready for a trip to the coast?
A long road trip is like going from sprints to a marathon for your car. Make sure it's ready to handle the long haul by popping to a mechanic or service centre before you leave. Here's a quick checklist of things to ensure are in working order:
All your car's essential fluids: make sure the following are topped up - oil, radiator fluid, brake fluid, power steering fluid, transmission fluid and windshield fluid.
Tyres: inspect to see that all tyres - including your spare - are in good condition. (Remember, Discovery Insure members can now pay for new ones at Tiger Wheel & Tyre using an Insure Funder Account at any time. Diamond drivers can fund 100% of their tyre spend using their Insure Funder Account.)
Air pressure: getting this right will ensure fuel efficiency, especially over long trips.
Brake pads: ensure they're not worn too thin (any screeching or squealing from them should give this away).
Air filters: clogged filters can affect engine performance, fuel economy, and interior air quality.
Light bulbs: check the brightness of your headlights, tail lights and both indicators.
Belts and hoses: belts need to be tight with no visible cracking, fraying, or missing teeth. Hoses must be leak-free.
Brand SA's secret beaches to sneak away to
Beaches near the larger coastal cities naturally attract more tourists, but, according to *Brand South Africa, if you don't want to negotiate a tangle of tanned limbs to get from the sea to your towel, there are dozens of others where you can find space, privacy, soft sand and clear blue waves: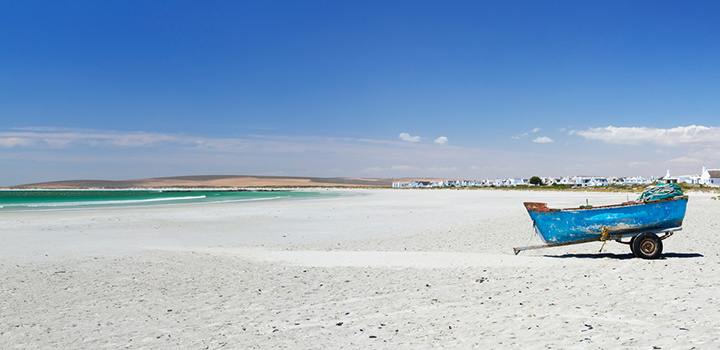 Paternoster
Cape West Coast
If you want to avoid Cape Town's main beaches, head up the west coast towards Namibia and you'll find one spectacular seascape after another. The rocky outcrops provide some of the most private beaches, not to mention the best surfing waves. Secret places to visit include Eland's Bay, Paternoster, Lambert's Bay and Yzerfontein.
Cape Peninsula
Looking for sandy solitude? Noordhoek's Long Beach is a serene sweep of sand over 2km long, backed by beautiful fynbos-covered mountains. Blaauwberg offers the best views of Table Mountain and is long enough to avoid people, if that's what you're after. Or travel just a little way to the dune-fringed beauties of Betty's Bay, Kleinmond and Pringle Bay.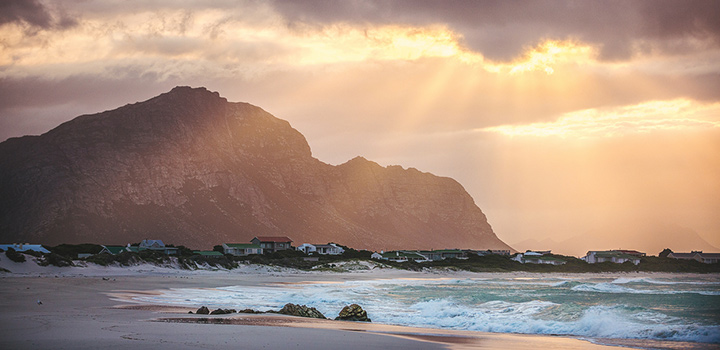 Betty's Bay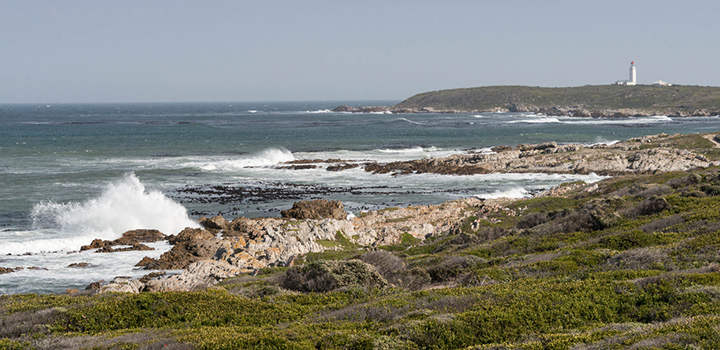 Gansbaai
Cape East Coast
The further east you travel from Cape Town, the warmer the sea gets. Hermanus is a popular holiday spot, but a five-minute drive out of the village takes you to the more peaceful Grotto Beach. Follow the coastline north and the gems of Gansbaai, Pearly Beach and Arniston beckon. Arniston, a restored fishing village, is particularly beautiful, and out of season is all but isolated.
Eastern Cape
Those allergic to crowds will want to avoid the seaside havens of Plettenberg Bay, Knysna and George in high season, but again there are beaches just out of town that offer space and scenery aplenty. East London's Gonubie Beach is one of the country's prettiest, as yet unclaimed by hordes of beachgoers. Cape St Francis and Seaview Game Park, both near Port Elizabeth, are similarly untrammelled.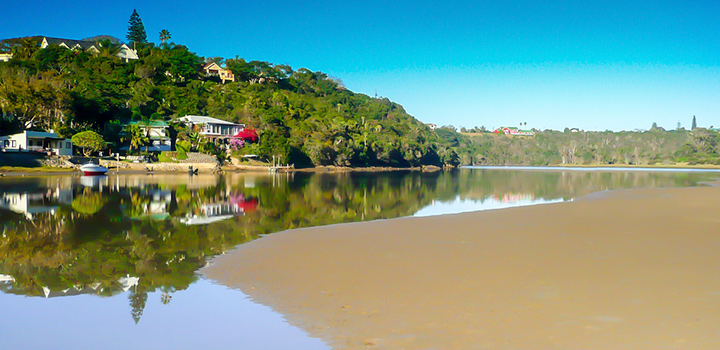 Gonubie Beach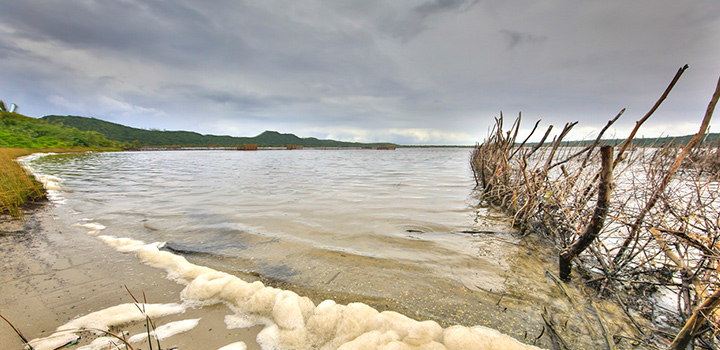 Kosi Bay
KwaZulu-Natal
KwaZulu-Natal offers the best beaches for those who like to float in the sea for hours on end. On the north coast, near the Mozambique border, is the ecotourism paradise of Kosi Bay. The nearby St Lucia, a protected nature reserve, has beautiful long beaches and lukewarm water. Other secret spots include Mtunzini, Zinkwazi and Blythedale.
The south coast beaches aren't quite as isolated, but small towns such as St Michaels, Hibberdene and Umkomaas are less inhabited, particularly in the mild winters. So with your vehicle in tip-top condition, cruise your way to a segment of South Africa's 3 000 kilometres of coastline to enjoy a relaxing beach getaway!
*Material in this article is reproduced with kind permission from Brand South Africa.
Win a dream holiday by driving well!
Discovery Insure is teaming up with Vitality to offer you bigger and better rewards! With the Vitality drive Active Rewards, you can now get a coffee, smoothie, popcorn, airtime or discounted car wash every week for 100 kms of consecutive event-free driving. Plus, if you achieve a 3-in-a-row goal streak, you can win exciting prizes, including a dream holiday.
Road-tripping #1: Delve into your cultural heritage
Did you know that South Africa is home to eight UNESCO World Heritage Sites, all of which were declared to be of 'outstanding value to humanity'? Here's a look at four fascinating cultural sites that are well worth visiting on your next national road trip!