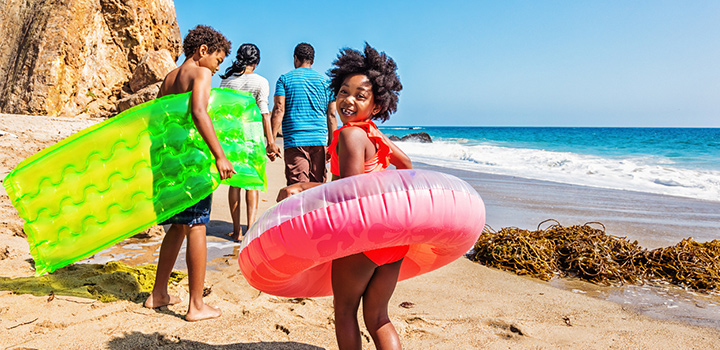 No matter where you are or what you do these holidays, we've got you covered. Here's how being smart and well-prepared can keep you safe, healthy and happy this festive season.
Summer holidays! Many of us have been waiting all year for this. As you ease into the holidays once more, enjoy peace of mind knowing that wherever you are and whatever you do, Discovery has you covered this December:
We're there for you on the road
Make your road trip a leisurely drive by prepping your vehicle and planning well. Our Discovery Insure clients can rest assured that they're covered by Impact Alert and Trip Monitor on the roads, so we'll be on hand 24/7 if you need any assistance. Plus, find tips on healthy padkos ideas.
Need a doctor on call?
Discovery Health Medical Scheme members can access free doctor advice from their device with DrConnect. Use your Discovery app to find thousands of trusted answers to emergency or medical questions while travelling. If you're headed outdoors to soak up the sunshine, don't take your melanin for granted - be sun-smart!
Get active this holiday
If you're worried you're exercise plan will fall by the wayside with all the festive eating, check out these fun suggestions of how to stay active wherever you are. And talking of festive eating - yes, it's possible to enjoy good food without the guilt.
Healthy holiday food hacks and thoughtful gift ideas
Avoid New Year regrets of overindulgence with these bright ideas for hosting at home and dining out. And while you're treating your loved ones to wholesome spreads, extend your care even further by sharing the gift of good money sense in ways that will last a lifetime.
Our gift to you - win back your Discovery Card spend each week!
For all other holiday expenses, be money-savvy by earning each time you spend with Discovery Card. In the spirit of giving, we're running an exciting competition where you can win up R10 000 a week - learn more here and get swiping!
Wishing you a safe, happy and healthy holiday!