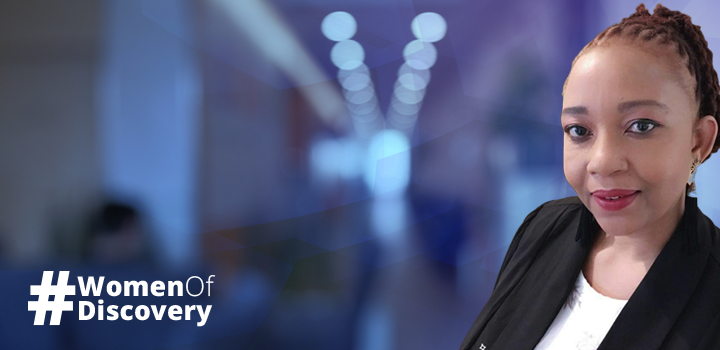 Discovery Bank's Chief Client Officer, Phuti Sebidi, says her personal purpose is to empower young people who need help kick-starting their career.
"My personal purpose means that where I have influence, I will selflessly help people who grew up in difficult circumstances to access opportunities on their own merit," says Sebidi.
At Discovery Bank, the world's first behavioural bank, Sebidi is responsible for the first human interaction a client has with Discovery. Fortunate to manage a call centre environment, she says it is an opportunity to mould and inspire young people, fresh out of university. "We sought graduates, especially those were on state bursaries. People who come from poverty but had managed to complete a degree," she says.
Sebidi continues saying that young people who don't have work experience just need a chance. "And here they get the opportunity to be the face of the business. It builds resilience, when you have to handle queries, complains and compliments. As a digital bank, our call centre is the first point of contact, which means we have to operate proactively and reactively."
To those young people, she advises that they bring their history to work, because it makes them a complete human being. "Recognise where you come from. Know your craft, but bring your ubuntu (humanity) with you," she says.
The exciting start-up Sebidi joined 22 years ago
Sebidi, whose career at Discovery spans over two decades, says she joined the company when it was a new kid on the block. "Now, 22 years later, I am reliving it with Discovery Bank, which is also a start-up."
Introducing and implementing the industry-changing Medical Savings Account and KeyCare series of lower-cost medical aid plans in South Africa, as well as creating the first call centre for doctors were just a few of Sebidi's seminal projects at Discovery. "I think I became known as the go-to person when there was a new project to launch," Sebidi laughs. It felt good to be given new opportunities which challenged me."
Looking after the finer details of client services is the key to her success, she says. Although she has a Master's degree in business leadership, Sebidi credits her career success to her tertiary training in microbiology and chemistry. It gives one the ability to look at situations at microscopic level to understand the small things, learn to respect every small entity as well as its place in the world."
Of the many lessons she has learnt over the years, her most important takeaway is that there is power in knowing you don't have all the answers and not being shy to say that you don't know, but you will find out.
Sebidi's message to women in South Africa
As a woman in corporate South Africa, she says her rule is that you should always use the voice that you have been given. She believes this is especially true of those in leadership roles. "You may have to still fight for your voice to be heard, but use it. At the same time, don't lose your femininity. There is strength in softness," says Sebidi who is mother of one, but cares for many.
On a personal level, Sebidi says it is important to nurture your internal source of strength, whatever it may be. "I have always felt that one day I want to change the world. When you want to leave a legacy, the strength to do it comes naturally," says Sebidi.
Her advice for navigating a fast-paced world with huge demands is to never waste a crisis. "If I could go back to my younger self starting her career, I would tell her to not stress so much. If there is misunderstanding, find a peaceful way of working with people to fix it. A crisis is an opportune yet painful way of learning. You might only see it in hindsight, but if you are in that moment, just accept it and know it is a lesson."
Discovery for Business
Employers benefit significantly from a healthier workforce. Find out more about our comprehensive Employee Benefits for businesses.
Are your people dying for a paycheck?
The South African workforce is amongst the most stressed in the world, according to a Bloomberg Business survey which rated our stress levels second, only to Nigeria.
Is presenteeism damaging your business?
It is important that employers understand the cost of present but disengaged employees on business and ultimately the impact of poor health on a company's bottom line.