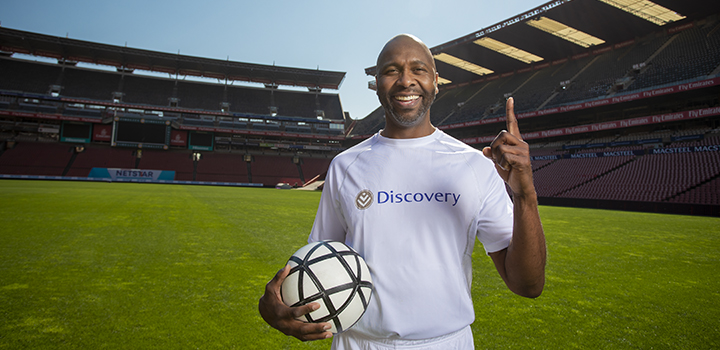 Discovery now has a chief in its midst after announcing South African soccer icon Lucas 'Rhoo' Radebe as its latest Discovery Vitality Ambassador. Learn more about this legend and why we're so excited to be working with him in inspiring healthier, more active lifestyles!
Have you heard? Discovery's just welcomed soccer legend Lucas Radebe to the #VitalityAmbassador family, which already includes proudly South African sporting heroes like Caster Semenya, Wayde van Niekerk and Chad le Clos.
"Lucas is one of our national treasures, both as a former football star and through his terrific philanthropy," says Iona Maclean, Head of Sponsorships and Experiential Marketing at Discovery. "His talent, courage and warmth has inspired thousands, both at home and abroad, so we're delighted to welcome 'The Chief' to our family. We're hoping his immense energy and popularity will help promote better health by inspiring people – and especially our youth – to lead more active lives."
From Diepkloof to Premier League: A hero in the making
Lucas Radebe is considered by many a true South African hero, having risen from humble beginnings to become one of the most recognised sporting figures in the land. Born in Diepkloof, Soweto in 1969, Radebe made a name for himself in the early nineties as one Kaizer Chiefs' star players.
After miraculously surviving a shooting a year before he made his national debut for Bafana Bafana, he went on to help secure victory for the team at the 1996 African Cup of Nations. Radebe led South Africa to two FIFA Soccer World Cup wearing the captain's armband for the France 1998 and Korea/Japan 2002.
The star defender joined Leeds United in England in 1994, becoming one of the first African players to make a mark on the Premier League. Lucas emerged as one of the most-loved players for the Yorkshire side, earning the nickname "The Chief" and becoming the first African to captain a British top-flight club.
We're investing in SA soccer – and a passion for outdoor play
By welcoming Lucas as an Ambassador, Discovery's adding even more star quality to its existing football properties – which include Official Wellness Partner of Arsenal FC at the Premier League – and boosting our efforts to grow the sport.
Discovery already has a strong soccer footprint in South Africa through the Discovery Walter Sisulu Soccer Challenge, launched in 2002 and hosted annually in Soweto by Discovery and the family of Walter Sisulu.
The Discovery Primary School Knock-Out Cup was launched in 2009 and has since expanded to include high schools, with over 1 000 players participating in the annual high school tournament in Johannesburg. The primary school soccer programme extends to the Discovery Festival and the Alexandra Discovery School's League.
Maclean adds, "All these tournaments and sponsorships serve to kindle a passion for active, outdoor play, and give young future stars a platform to perform. Through them – and by bringing Lucas on board – we aim to bring communities together in ways that encourage everyone to take part and get healthier."
Lucas says: "I am proud to join the Discovery team"
On becoming a Discovery Vitality ambassador, Lucas said: "I am proud to join the Discovery team. I well understand the importance of making the most of your opportunities, and believe that if you provide more young people with opportunities, skills, and a positive winning mentality, you inspire them to achieve. Discovery's investment in soccer at both a local and international level prove their commitment to the sport, to our youth, and to the health and unity of our nation."
Nelson Mandela once famously said of Lucas Radebe, 'This is my hero.' Here at Discovery, we couldn't agree more.
Learn more about sportspeople and events we sponsor here.
Through strong partnerships and involvement in numerous events, we're able to promote health and wellness in communities across South Africa. Our core focus is on sports-related events that foster mass participation in an accessible way.