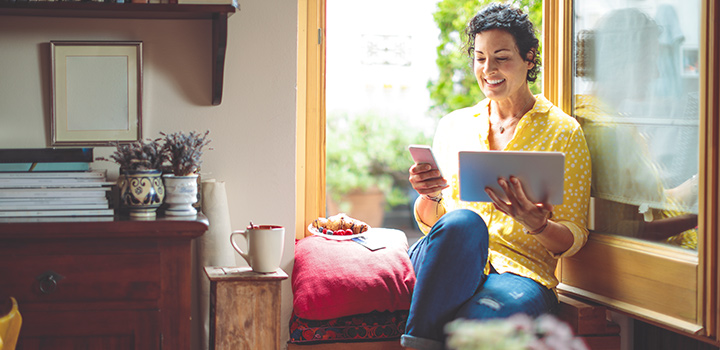 We all look forward to a comfortable, worry-free retirement. One obvious way to ensure you have a worry-free retirement is making sure that you don't have to worry about how you will pay for where you will live.
Owning your own home or having enough investment income to pay your rent is therefore essential when you retire. You need to make sure that you are not still making repayments on secured debt after you have stopped earning a regular income.
Is owning a home an asset?
An asset is something with value that you own. So yes, owning your home is definitely an asset… but your home loan is not. Debt, even secured debt, is a liability, because you need to pay off the loan and interest before you really own the home.
Secured debt is a loan to make a purchase, like a house or a car, that a lender could take away if you fail to pay. Most people take out as much debt as they can, but it is much smarter to buy and borrow well within your means. The more money you spend paying off debt on a house or a car, the less you'll have to spend or invest.
Avoid common financial mistakes with secured debt
It helps to be aware of common financial mistakes that could get in the way of ensuring you pay off your secured debt before retirement. One of those is never owning your house outright, because you keep upgrading to a bigger, better house. Upgrading your house too often and spending more than you need are very common mistakes.
Another mistake is overspending on a car. You could really benefit by just driving a more affordable car.
For example, if you bought a house for R1 million, and a car for R300 000, replacing your car with an equivalent every five years, your bond payment would be around R9 600 a month for 20 years, and your car payment R6 700 a month for five years.
If you were to buy a different car, costing a third less (say, R200 000 rather than R300 000), your monthly car repayment would be R4 400. Putting the money you saved on car payments into your bond instead would allow you to pay off your house in only 12 years, saving R580 000!
Even better: for the eight years after paying off your house, you'd have an extra R14 000 available to invest every month.
Building wealth is a balancing act. Choosing to manage your lifestyle expenses in favour of financial independence can create massive savings – and the extra cash gives you options.
Vitality Money Property Points help you prepare for retirement
Property is one of five measures used by Vitality Money to assess your current financial position. Your property points measure how you're tracking towards retirement, so you can stop working, have a place to live, and no secured debt.
There are two ways the points are calculated, depending on whether you own or rent your accommodation.
If you own your home, the points are based on how much outstanding secured debt you have compared with an age-related benchmark. This means that the closer you are to retirement, the more of your property loan should be paid off.
If you rent your home, the points calculation will consider investments not included for your retirement lifestyle funding, which can be used to cover your accommodation expenses. In other words, we're making sure that you can comfortably afford to continue renting in retirement. Vitality Money uses an age-related benchmark to work this out, too.
There are two ways to boost your property points: Pay off your secured debt every month and Build up your savings.
This article is for information purposes only and is not intended as financial advice. Please consult with a financial adviser for financial advice.
It's finally time to bank healthier. Are you game?
We're taking on the challenge to help South Africans become financially healthier by launching the first behavioural bank in SA. Join a bank that helps you think differently about money, so you can achieve the kind of financial future you want. A healthy one.
Discovery Bank clients do not have to visit an ATM to draw cash too often as there are a number of easy and safe ways to pay with our banking app.
Do you dream of the day you can head into a wonderful retirement of travel, gardening and leisurely lunches? Are you saving to ensure that come retirement age, you are covered? And are you also considering that you could live to the ripe old age of 100?