Hi there
It's official - winter is over; spring is here! Pack away those jerseys and celebrate with us, as we continue to live life with Vitality:
Can we count you in? Register for the Vitality Running World Cup and run for South Africa this month. It's the first global virtual running event where you compete against the rest of the world for the championship title. Plus, everyone can join, for FREE.
Miles D-Day is back this month. Add 15 September 2021 to your diary and prepare that shopping list because our BETTER-THAN-BLACK-FRIDAY day is back again this September.
Celebrate the warmer months by booking your next (safe) getaway. kulula.com and British Airways (operated by Comair) took to the skies again this month, so you can now use those well-deserved Vitality travel savings for your next flight booking.
Got your COVID-19 vaccination? Here's some great news. Vitality members 18 and older will get 2 500 Vitality points this year for being fully vaccinated against COVID-19. Points will be auto-allocated by the end of 2021. If you haven't yet gotten your shot, you can book now on our website.
Have a happy September.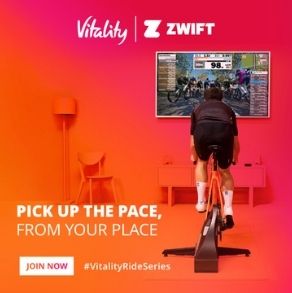 Earn Vitality points while changing lives
Following an epic Vitality for UNICEF Ride Series, there are still weekly rides on Zwift where you can continue to help vaccinate children against polio.
KEEP CYCLING
Lettuce give back through MoveToGive
Springtime = garden time. Choose to donate your Discovery Miles to Vitality MoveToGive this month to help Reel Gardening provide families with veggie kits to grow at home.
BE A FORCE FOR SOCIAL GOOD
See why traditional banking belongs in the past
Watch the new Discovery Bank ad to see why it's time to move over to smart, seamless and rich shared-value banking. Get snapshots of exciting innovative features like Discovery Pay, Live Assist and Smart Vault, and see a sneak peek of something cool coming soon.
SEE THE FUTURE OF BANKING. NOW.