Welcome to Vitality at Home
Vitality brings you #VitalityAtHome to encourage you to stay healthy and keep you rewarded at home.
Where would you like to start?
Stay healthy with Vitality at Home
Browse through the resources below for expert advice on how to stay physically and mentally well in the midst of COVID-19. Access tasty, healthy recipes on the Vitality Home-Cooking Channel, or challenge yourself to stay active at home with online workouts on the Vitality Home-Workout Channel. There's something for everyone.
Stay rewarded with Vitality at Home
Vitality makes healthy living more affordable with savings on your gym fees, shopping rewards for staying active, and rewards for buying HealthyFood, personal care items and more. We also help you stay motivated with unmatched savings on flights, holiday accommodation and car hire.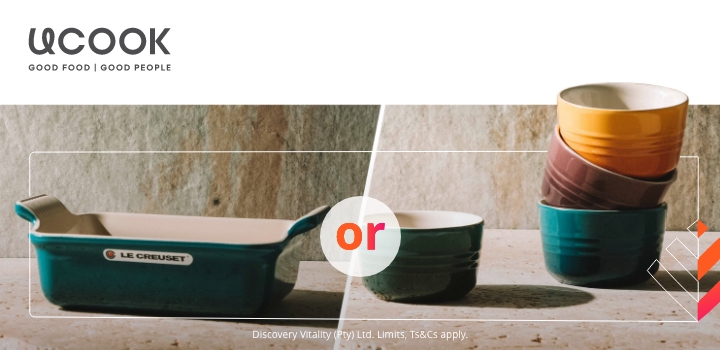 New to UCOOK? Your Le Creuset gift is waiting for you ...
Order UCOOK HealthyDining Meal Kits or Frozen Craft meals by 9 December & UCOOK will add a Le Creuset gift to your 1st order. Plus, get up to 25% back on HealthyDining meals!
Join Vitality FREE for 3 months. Get amazing benefits and rewards at no cost and only pay from month 4.