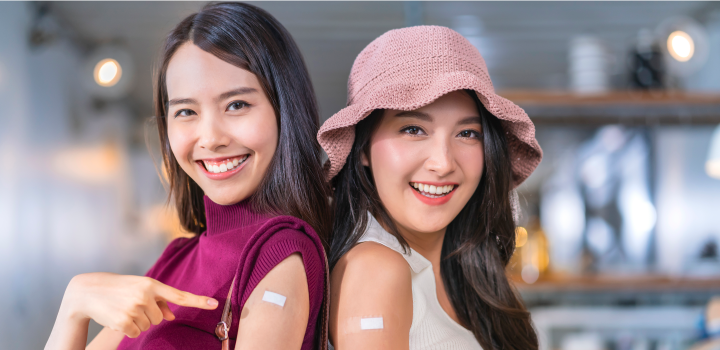 The Vaccination Max PayBack Offer serves to encourage you, as a new Discovery Life client, to fully vaccinate yourself against the adverse health effects of COVID-19. By receiving a vaccination, you can earn yourself the maximum PayBack available on your plan on your first policy anniversary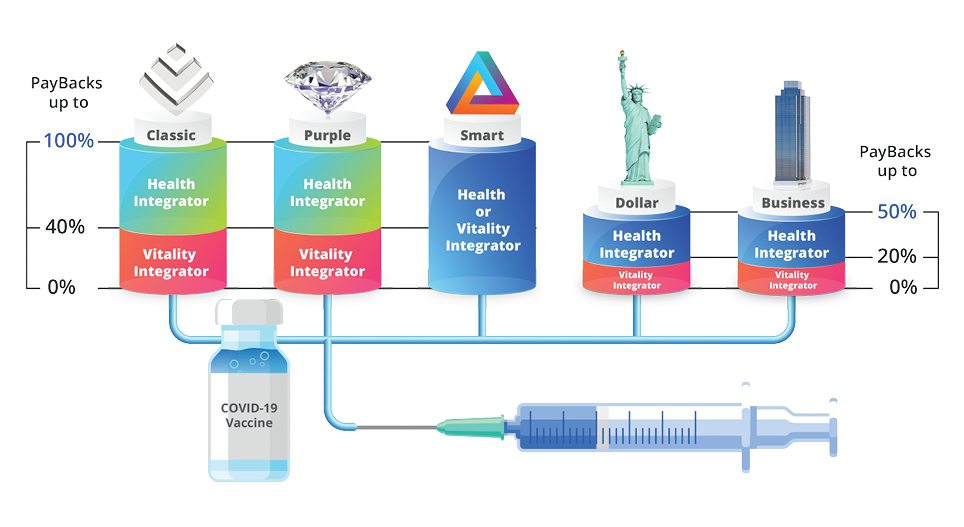 Why you should get vaccinated
Vaccinations are a proven clinical method for increasing levels of COVID-19 immunity in populations exposed to the virus. By getting yourself vaccinated, chances of developing severe symptoms resulting in hospitalisation or death can be significantly lowered.
The two-dose Pfizer-BioNTech vaccine, has been shown to lower the risk of severe disease by as much as 96%* in fully immunised individuals. Discovery has found that Discovery Health clients who have had their first dose of the Pfizer-BioNTech vaccine have a 47% lower COVID-19 infection risk within three weeks of being vaccinated. This shows that vaccines are highly effective against COVID-19 and help to preserve quality of life.
Sharing the value of enhanced protection
When you make the responsible decision to get vaccinated, you help us in generating even more value through your life plan. How? Vaccination enables you to live a healthier life and ensures that you have a significantly lower risk of both contracting COVID-19 and being hospitalised as a result of it. This benefits everyone since you can enjoy a healthy lifestyle, we gain actuarial savings from your lower risk, and society is able to return to normal at a faster rate. The Vaccination Max PayBack Offer is our way of rewarding your healthier choice.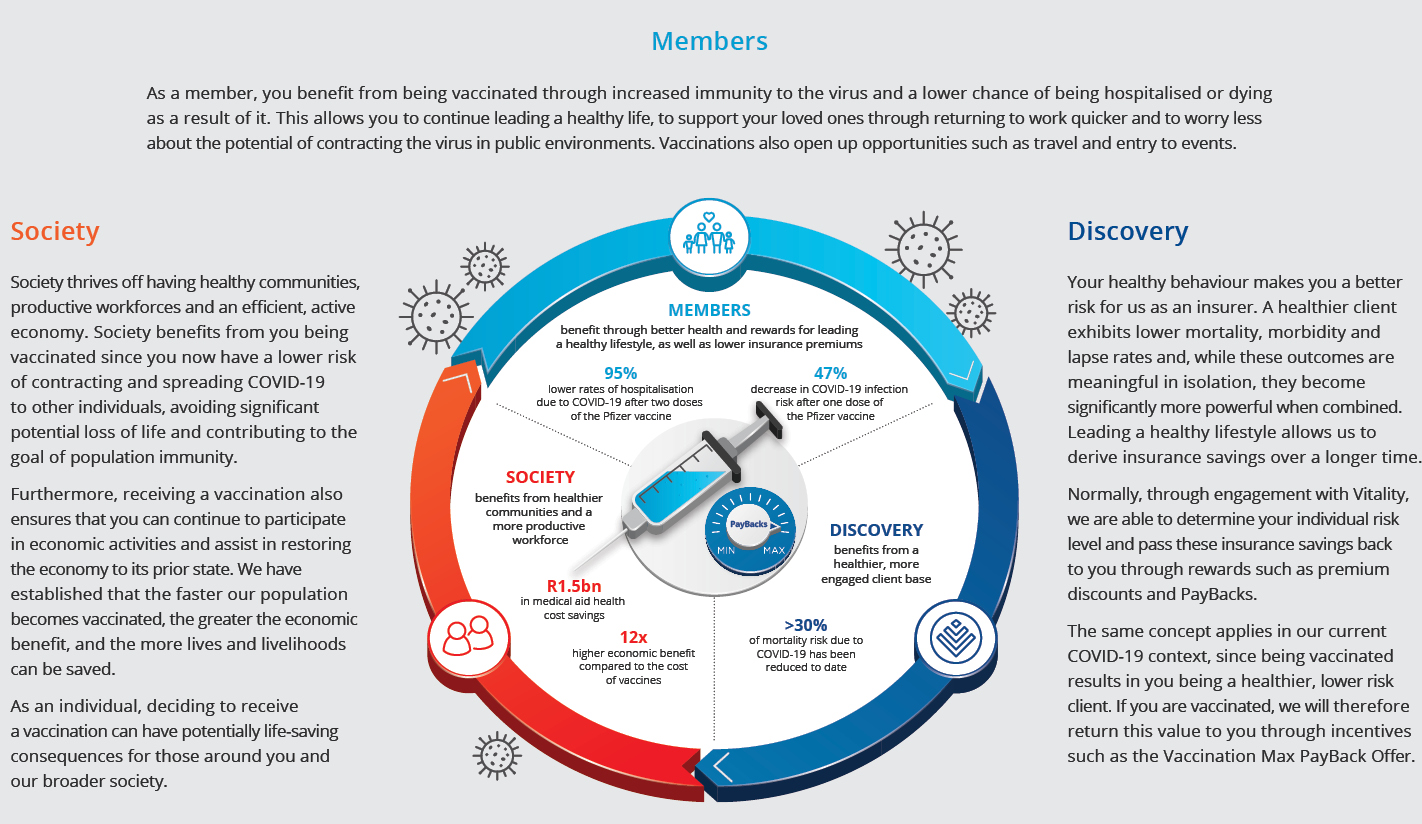 How much PayBack you could qualify for with this offer
At the end of the first year of your policy benefit, you will qualify to receive the maximum PayBack percentage available to you, based on the integration you choose on your policy.
If you are a Discovery Health member, you can receive up to 50% of your premium in PayBack. If you have opted for the Double PayBack option on your plan, you can qualify for up to 100% of your premiums in PayBack when you choose to defer them by 5 years.
If you are a Discovery Vitality member, you can receive up to 20% in PayBack. In this case the Double PayBack option could qualify you for up to 40% in PayBack.
Why choose Discovery?
The COVID-19 pandemic has brought with it unexpected health risks, which come with additional needs and considerations. That is why Discovery Life continues to find innovative ways to ensure that you have access to the most relevant, protective support available when you most need it. You can rest assured knowing that Discovery's core purpose of making people healthier, and enhancing and protecting their lives remains at the forefront of keeping your life cover comprehensive and relevant for your and your family's needs.
You can also make the most of your comprehensive cover and earn additional PayBacks simply for proactively engaging in the Vitality programme and taking the best care of your health and wellbeing. Clinical studies have shown that two of the most influential risk factors that affect the severity of a COVID 19 infection are an individual's age and the existence of any chronic conditions or comorbidities. Discovery Health and Discovery Life data shows that proactive engagement in the Vitality programme can help modulate these risk factors, reducing disease severity considerably.
How you can qualify for the Vaccination Max PayBack Offer
This offer is available between 29 July 2021 and 31 March 2022 and you can qualify for it by:
Being a principal policyholder on any of our comprehensive life cover plans (with or without the Discovery Retirement Optimiser feature) and qualify for the PayBack benefit.
Being a principal policyholder who has already had the full dosage of an approved COVID-19 vaccine at the underwriting stage OR have indicated your intention to receive the full dosage of an approved COVID-19 vaccine in writing if you are not yet eligible for vaccination registration at the time of taking out the benefit. If you are not yet vaccinated at the time of taking out the offer, you will have access to our free Vaccine Assist service through which you will be notified if you become eligible for your vaccination. This service will also provide guidance for booking your vaccination appointment.
Having opted to integrate your life cover with Discovery Health, Vitality or Bank products.
To learn more about comprehensive protection for you and your family, and the Vaccination Max PayBack Offer, get in touch with your financial adviser or fill in the form below to get one of our agents to call you back today.
Discovery Life Limited. Registration number 1966/003901/06, is a licensed life insurer, an authorised financial services and registered credit provider, NCR Reg No. NCRCP3555. Product rules, terms and conditions apply.
*Stowe, J., et al., Effectiveness of the Pzifer-BioNTech and Oxford AstraZeneca vaccines on COVID-19 related symptoms, hospital admissions, and mortality in older adults in England.
Value-added benefits from Discovery Life that you can 'bank on'
A healthy lifestyle and sound money management have a direct improvement on the quality of our lives - something we can all benefit from. What if you could add a little more value to your quality of life? With Discovery Life's Bank Integrator Benefit, you can.